Posted January 11, 2022
MAX USA Gears Up for World of Concrete
MAX will be exhibiting newest tools and offering swag at booth W3705.
---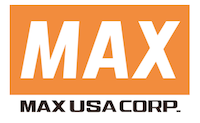 MAX USA will be at World of Concrete 2022 January 1s 8-20. MAX has been attending world of concrete for the last 25 years and we don't plan on stopping! This year we will be located at booth W3705.
This year we will be celebrating our 80th year anniversary. Come down to our booth to test out our rebar tying tools to make your life easier in 2022! With reducing jobsite injuries, saving money, ensuring project costs, and avoiding fatigue from the monotonous hand tying you can expect to always work ahead of project schedule.
Our TwinTier RB401T-E will be on display for our guests to try out. Don't forget that this is the world's first stand-up rebar tying tool. Say goodbye to bending over and back injuries. Our TwinTier has a Wire Pullback mechanism that pulls wires efficiently to strengthen tying force. In addition, it has a Wire Bending Mechanism and Dual Wire Feeding Mechanism that minimizes the resulting tie height and increases productivity and speed.
As an appreciation for the support of our loyal customers, make sure you stop by and fill out our questionnaire and you will be rewarded with some of our MAX swag.
MAX USA CORP. is headquartered in Plainview, NY, and is owned by MAX CO., LTD. which is headquartered in Tokyo, Japan. MAX has been recognized as a market leader in the quality manufacturing of tools for nearly 80 years. MAX has several divisions employing more than 2,000 people worldwide, including 200 R&D engineers. Learn more at www.maxusacorp.com.
MAX USA CORP is hiring! Please check our website https://www.maxusacorp.com/careers for the most up to date openings.