Posted January 12, 2022
Makita Ready to Go Live at World of Concrete 2022
Makita booth will feature more battery-powered equipment and tools for concrete contractors.
---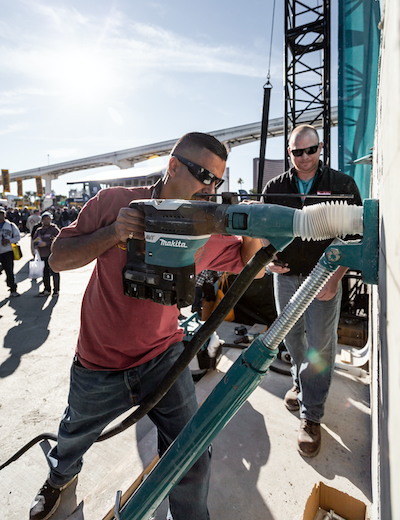 Makita is returning to World of Concrete in Las Vegas next week with an expansive and interactive booth in the new Diamond Lot outdoor exhibit area.
Makita will present a full range of demonstrations for contractors, with more cordless solutions that deliver lower noise, less vibration and improved dust extraction without compromising performance.
World of Concrete is the industry's largest annual trade show for concrete contractors, and as a longtime exhibitor Makita will once again draw a crowd with 20+ hands-on demonstrations and displays featuring two cordless systems: 18V | 36V LXT, and 40V | 80V XGT.
A highlight will be new XGT releases which are taking cordless into spaces where, until now, cords and gasoline have been the go-to power source.
"XGT is the industry's most powerful cordless system, and it runs on batteries with a compact form factor. This is a major advantage for contractors," said Wayne Hart, senior communications manager, Makita U.S.A. "It's been just 8 months since its launch, and today the expanding XGT System offers over 50 40-volt and 80-volt max cordless tools and equipment. XGT users get a complete system, from core solutions like drills and impact drivers to demolition hammers, power cutters, rotary hammers, and more. XGT is engineered to outpower, outsmart, and outlast the rest."
The World of Concrete show opens at the Las Vegas Convention Center on Tuesday morning, January 18, and runs through Thursday, January 20. For more information on Makita at World of Concrete, go to www.makitatools.com/events/worldofconcrete