Posted January 26, 2022
Mayhew Tools Sponsors 2022 NASCAR Whelen Modified Tour's Pole Award
Spnsorship acknowledges drivers and crews.
---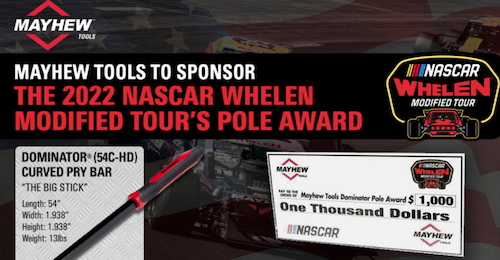 Mayhew Steel Products, Inc. (Mayhew Tools) is proud to announce their sponsorship of the NASCAR Whelen Modified Tour's Pole Award for the 2022 season.
This will be the hand-tool manufacturer's fourth consecutive year sponsoring the Pole Award, which recognizes the driver with the fastest time in the qualifying rounds, and their crew. The winning driver will receive a one-thousand-dollar check, and the crew chief of the winning driver will be given a Mayhew Dominator® heavy-duty curved pry bar, dubbed 'The Big Stick' due to its 54" length and 13 lbs. of overall weight.
The NASCAR Whelen Modified Tour season will kick-off Saturday, February 12, 2022, in Florida at the New Smyrna Speedway as part of the track's "World Series of Asphalt Stock Car Racing," during NASCAR's Speedweeks. The NASCAR Whelen Modified Tour's 2022 season will include 16 races scheduled throughout most the Northeast, concluding at Martinsville Speedway in Virginia on October 27, 2022.
"We are honored to once again sponsor the prestigious Pole Award, as we have established a strong affinity towards the Whelen Modified Tour, its participants, and its fans," said John Lawless, President of Mayhew Tools. "We appreciate the fact that this award recognizes the driver who achieves the fastest qualifying time for that race, as well as the crew- who are such an integral part of the action that helps the driver perform at their best."
Manufacturing hand tools since 1856, Mayhew Tools is known for their made in the USA punches, chisels, and pry bars and, in recent years, their pneumatic tools, inspection tools, and comprehensive line of drives and bits, including hundreds of sizes and styles of made in the USA insert and power bits, added just last year. In committing to sponsorships and building relationships within the racing community, Mayhew has been able to get their high-quality tools directly into the hands of professionals, which has proven a win-win for extending their brand awareness while also supporting the racing community at-large.