Posted February 2, 2022
Rental Leaders Unite to Provide Relief in Kentucky
Point of Rental joins Lowe's, others In providing needed services after tornadoes.
---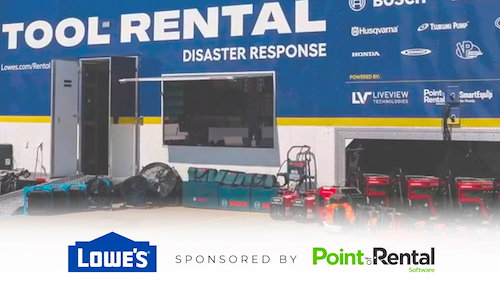 After catastrophic tornadoes tore through Kentucky in December 2021, Lowe's and other rental leaders came into the region to help the area recover from the destruction.
Lowe's deployed its Tool Rental Disaster Response Trailer to Bowling Green with critical supplies needed by residents to restore homes and businesses. Tools and equipment available for rent include generators, saws, dehumidifiers, breaker hammers, ladders, and more.
Point of Rental provides the software for the Disaster Response Trailer; other partners include Bosch, Husqvarna, Tsurumi, FNA-Simpson, GNE-Honda, Xpower, Metabo, Werner, VP Racing Fuels, SmartEquip, AT&T, and LiveView.
"I've always been proud of how the rental industry in particular is always first in line to help their communities in times of crisis," said Point of Rental CEO Wayne Harris. "We're glad to be a part of this initiative from Lowe's and to see the Disaster Response Trailer provide some value to the people affected by this tragedy."
The Lowe's Tool Rental Disaster Response Trailer is in operation at Lowe's of Bowling Green (150 American Lane) through February 7.
About Point of Rental Software
Point of Rental Software provides smart, scalable rental and inventory management software to over 5,000 business locations of all sizes and industries. With offices in the UK, USA, Australia, Germany, Canada and South Africa, Point of Rental offers the global rental and hire industry award-winning software and unparalleled customer support. To learn how Point of Rental can benefit your business, call 844-943-7368, visit pointofrental.com or email sales@pointofrental.com.