Posted February 7, 2022
Hy-Brid Lifts Reports Record Sales in 2021
Sales grow 99 percent for year.
---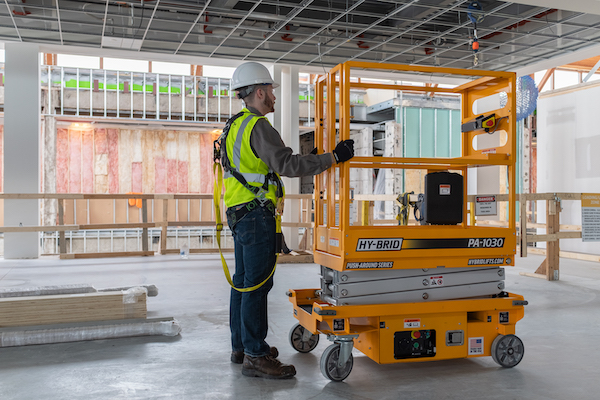 Low-level access equipment specialist Hy-Brid Lifts closed the year 2021 with record-setting sales. The company attributes this strong performance to its portfolio of class-leading products and increasing demand for safer work-at-height options.
Compared to 2020, the scissor lift manufacturer's global sales rose an impressive 99%, driven by a 140% growth in Push-Around Series sales.
"We have seen a significant increase in demand for more efficient and maneuverable aerial work platforms," said Jay Sugar, Hy-Brid Lifts CEO and President. "Not only does our product line meet these customer requirements, but our lifts are setting new industry standards."
The PS-1930, launched in early 2020, remains the world's lightest 19-foot scissor lift and one reason Pro Series sales grew 83%. Demand for the compact ZT-1230 and its less than zero degree turn radius pushed Zero-Turn Series sales 73% higher than prior year figures.
Sugar confirms that the company's aggressive growth strategy and unique ability to pivot shaped 2021 performance.
"Hy-Brid Lifts has its share of manufacturing challenges due to ongoing material sourcing and labor shortages," Sugar said. "Having American-made products gives us the flexibility to get creative with resources and overcome these obstacles. This enables us to maintain shorter lead times than our competitors and deliver the innovative solutions our customers need."
The new year promises to be even bigger for the global scissor lift leader. Much anticipated product releases, end user demand for compact machines, and the push toward electrifying fleets lend to a positive trend moving into 2022.
Visit www.hybridlifts.com for the latest product announcements.