Posted May 25, 2022
Mi-T-M Corporation Receives Sphere 1 Preferred Supplier of the Year Award
Mi-T-M takes Ruby Echelon level award for excellent service to members.
---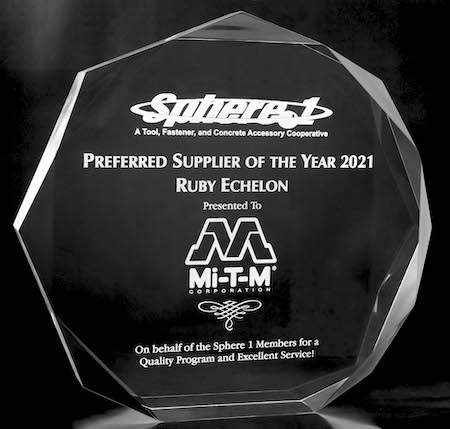 Mi-T-M Corporation was awarded 2021 Preferred Supplier of the Year at the Sphere 1 Annual Member Meeting in Denver, Colorado. This award recognizes excellent service and a quality program for members of Sphere 1 and is considered one of the most prestigious.
Mi-T-M Equipment Division Manager, Matt Hoefer, graciously accepted the award. "It was awesome to see others share the same excitement with us when we were announced as a preferred supplier of the year," stated Hoefer.
Sphere 1 is an organization that is owned by its Member-Distributors across the nation. It is a cooperative of tool, fastener and concrete accessory distributors, working together to achieve competitive and sustainable advantages in the marketplace.
For more information about Mi-T-M Corporation, visit www.mitm.com.