Posted July 5, 2022
Atlantic Hardware Supply Acquires Trippe Supply
Trippe Supply serves the Washington, DC market.
---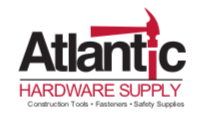 Atlantic Hardware Supply with locations in Hyattsville, MD and Waldorf, MD has closed on a definitive agreement to acquire Trippe Supply Co. of Washington, DC, Inc.(Trippe Supply)
This combined business will be led by CEO Frances Gray and President Lauren Van Roon. Dave Pinchotti, President of Trippe Supply, also joins Atlantic Hardware Supply as Sales Consultant.
"Atlantic Hardware Supply and Trippe Supply drive towards the same mission of providing knowledgeable, customer-centric service to professional contractors for all specialty construction needs," said Jon Gray Sr, Chief Financial Officer of Atlantic Hardware Supply. "Atlantic Hardware Supply and Trippe Supply have an aligned culture centered on service and relationship-building, which makes us excited for everything to come with our combination."
"This combination will increase our products, and services to enhance our customer convenience and experience, while bringing together two incredible teams of knowledgeable professionals focused on delivering exceptional customer service," said Jon Gray Jr, Vice President of Atlantic Hardware Supply.
About Atlantic Hardware Supply
Atlantic Hardware Supply serves as a one-stop shop providing tools, fasteners, safety products, fire stop, access doors, strut, lumber, concrete repair materials, and much more to professional contractors by meeting their distinct and customized supply needs in non-residential, residential and infrastructure markets. Atlantic Hardware Supply started modestly in 2009 with a facility in Mechanicsville, MD.
However, Chief Financial Officer Jon Gray Sr was not new to the service industry, coming from over three decades of successfully operating Diamond Tool Company in the Washington/Baltimore metropolitan market. In 2008 Jon Sold Diamond Tool with a plan to spend more time with his family, but his passion for business soon led him back into the game when he saw a lack of service, support, and technical expertise in the commercial construction market. He brought his family into the business with him; his wife Frances Gray became CEO, and together they assembled a veteran sales staff as well as technical sales representatives.
Later, the Gray's daughter, Lauren Van Roon joined the company working every position from sales, customer service, accounting, purchasing, and inventory control. As Lauren gained experience she eventually worked her way into the position of President. Lauren's brother, Jon Gray Jr soon followed the same path and became the Vice President. Today we are still a family run and women owned company with a mission to build the kind of partnerships that foster trust and loyalty. Our business is here to help you be successful in yours. For more information,visit www.atlantic-supply.com
About Trippe Supply
Trippe Supply is a construction supply distribution company headquartered in Capitol Heights, MD. Founded in 1977. Trippe Supply is dedicated to fulfilling all material and equipment job site demands. From jobsite supplies, to anchoring and fastening, masonry suppliers, and more, Trippe Supply provides products for General Contractors, welders, industrial customers, and many more involved in commercial, and residential construction.