Posted August 30, 2022
IronCraft, LLC Announces New CEO
Pat Kozlowski joins IronCraft from Caterpillar.
---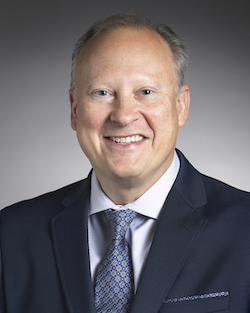 IronCraft, LLC, formerly Titan Implement, has named Pat Kozlowski as its new CEO replacing retiring Titan Founder Mike Turner.
Kozlowski comes from Caterpillar where he served in a variety of managerial roles across compact construction equipment and ground engaging tools, driving continuous growth for attachments through new product development, loyalty programs, and innovative digital strategies and solutions. He also worked in dealer channel strategy and new product development during his 30-year career there.
A transformational change architect, Kozlowski holds BS and MS degrees in Mechanical Engineering from the University of Illinois Urbana-Champaign, and an MBA from the Kellogg School of Management at Northwestern University. He is a 6 Sigma Black Belt and is a Certified Supply Chain Professional (CSCP).
As the CEO of IronCraft, LLC, Kozlowski will lead the continued growth of the Athens, Tennessee based manufacturer of 3-point, skid steer, and mini-excavator attachments, and foster a dealership-friendly environment.
"We're delighted to have Pat leading the IronCraft team," said IronCraft Chairman Ken Hoefling. "The experience that he gained while guiding Caterpillar's attachments group to impressive growth and development will serve our customers and dealers well. He clearly understands what it takes to be successful both in new product development and in ongoing support for customers and dealers. IronCraft is well positioned for the future with Pat at the helm."
On the new role, Kozlowski stated, "I am honored and excited to join the IronCraft organization. We will continue our commitment of being a valued partner to our IronCraft dealers and end users by providing quality products and a superior customer experience that emphasizes transparency and simplicity. We will continue to invest in IronCraft's growth to make it easy for dealers and their customers to buy and own IronCraft products"
About IronCraft
IronCraft, LLC, founded in 2014 under the Titan Implement brand by the Turner family, is a leading manufacturer of agricultural implements and skid steer attachments catering to a variety of applications such as agriculture, landscaping, light construction, and more. Based in east Tennessee, IronCraft offers an extensive range of rotary cutters, rotary tillers, box blade scrapers, grader blades, landscape rakes, disc harrows, and skid steer attachments. For more information, please visit www.ironcraftco.com.