Posted September 14, 2022
INFORM Announces the Appointment of Jeff Van Grootel as Senior Sales Manager, Logistics Division
Van Grootel brings INFORM 30 years of in-depth construction industry experience.
---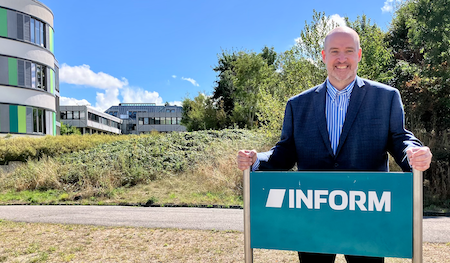 INFORM, a leading provider of Hybrid AI-based optimization software that facilitates improved decision-making, processes and resource management, announced that Jeff Van Grootel has joined the organization as a Senior Sales Manager, Logistics Division.
Jeff brings over 30 years of in-depth construction industry experience, both on the producer and equipment supplier sides. In his new role at INFORM, Jeff will be leveraging INFORM's AI-powered transport planning software for the cement, aggregates, ready-mix and asphalt logistics markets across North America. Applying his strong relationship-building skills and effective customer needs assessments, he will advise customers on the company's AI and optimization solutions, while supporting INFORM's continued growth within North America's construction materials industry.
According to Thomas Bergmans, Senior Vice President, INFORM Logistics Division, "We are extremely proud to have someone of Jeff's high caliber and construction industry experience onboard. Having worked successfully with Jeff on numerous projects in the past, I know he will be a tremendous asset to the INFORM team and our customers, applying his extensive technical and construction industry knowledge."
INFORM Software Chief Operating Officer Justin Newell added, "As our North American team continues to grow and expand our market reach, we are very excited to have a seasoned veteran with broad experience in all aspects of the construction materials industry join our Logistics Division to help deliver optimization in this major industry segment."
"I have dedicated my entire career to assisting the construction materials industry acquire and implement technology to improve processes, costs and profits," stated Jeff. "The next step in the journey for the industry is to embrace Artificial Intelligence (AI) and Algorithms to optimize very complex logistics to achieve a new level of performance and customer service. I am very excited to join Inform and to represent their outstanding logistic solutions for the entire construction materials industry."
Jeff's higher education includes his mathematics and computer science studies at the University of Waterloo.