Posted September 20, 2022
FastenMaster Teams with Industry Leaders to Recruit Deck Builders
Helps bring recognition to the building trade prior to National Tradesman Day.
---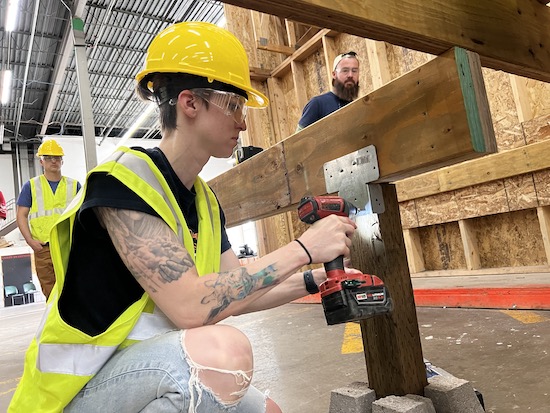 FastenMaster, a division of OMG, Inc., recently teamed with Colorado-based O'Keefe Built, a leading regional deck-builder and NADRA member (North American Deck and Railing Association), and the BuildStrong Academy of Colorado to host a day-long, 10-step deck building training session for individuals who are interested in learning about the deck-building trade.
The event was held at the BuildStong Academy in Denver and attracted 20 people looking for new opportunities in the trades who wanted to learn about the tools, materials, and best practices for safely building a 10- x 12-foot deck.
The training was divided into 10 sections including ledger attachment, joist layout, stairs, and more. In addition, a special focus was placed on safety, building code and the finishing touches that separate a regular deck from a well-crafted deck.
"We were very pleased to be part of this program," said David Ellis, director of sales for FastenMaster. "There is a critical need for trades people in all areas of construction, and providing the day-long, hands on experience opportunity to these students is a great way to both showcase the deck building industry and meet with some great people who may enter our industry."
Derek Lemon, project manager at O'Keefe Build echoed the sentiments, saying, "When O'Keefe Built was presented with the opportunity to help support a great training organization like BuildStrong with a deck-building training session, we were excited at the chance to give back. FastenMaster was a great partner to work with throughout all pre-build planning and was gracious enough to purchase materials for the project. Overall, it was a great success."
Established in 1981, FastenMaster is a brand of fastening solutions for professional contractors. Its products are engineered for structural, decking, and trim applications in residential construction, and its product line includes the LOK Line of structural wood screws, Tiger Claw Hidden Deck Clip System, TrussBRACE roof truss support system, as well as Cortex Hidden Fastening Systems for deck and trim applications.
For additional information please contact FastenMaster at 800.518.3569 or visit www.FastenMaster.com.