Posted September 22, 2022
Spyder Stinger Mach-Blue Step Bits Win 2022 PTI Award
Awards recognize the year's most innoative tools.
---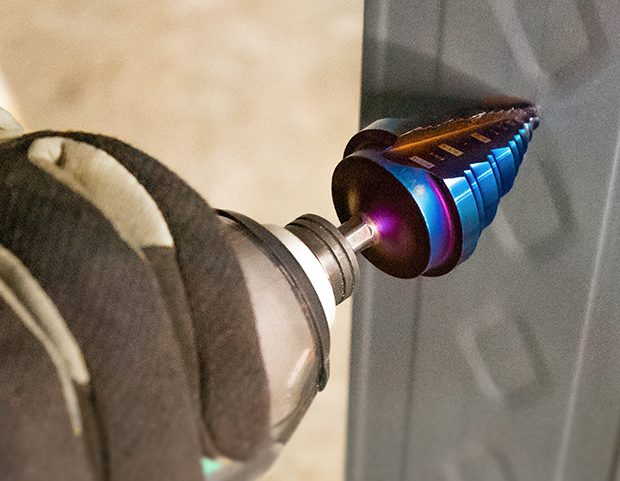 Spyder Products is proud to be recognized with a Pro Tool Innovation Award for our Stinger Mach-Blue Step Bits.
Gathering a diverse team of judges including contractors, construction business owners, tradesmen and media professionals, the votes were counted for the most innovative construction and outdoor power equipment industry products in the world for 2022.
Judging the 10th annual PTIA Awards revealed an amazing array of truly innovative power and hand tools, tool accessories, fasteners, and other products submitted by many of the top manufacturers in the industry.
Here's what the judges had to say about the Stinger Mach-Blue Step Bits: "Spyder continues its Mach-Blue momentum with step bits that put a beating on the life and speed of black oxide and titanium designs. Boasting 50 times greater life and twice the drilling speed, Mach-Blue's specially designed coating combines with a 135° split point tip to avoid wandering starts and has a 1/4-hex shank that works in traditional drill chucks and impact driver collets. Try it yourself and see the difference Mach-Blue makes."
"Any product can undergo incremental changes. Pro Tool Innovation Award winners tend to buck trends and bring much more to the table," said Kenny Koehler, editor-in-chief. "They really deserve the recognition they get. We feel that business owners, builders, contractors, and tradespeople can look to PTIA Award-winners to locate the products that can increase productivity, help them make more money, and increase safety on the jobsite."
This year, 99 different manufacturers and brands submitted over 465 products in dozens of categories for a chance to take home a 2022 Pro Tool Innovation Award.
This makes Spyder Products 8th award for our innovative products. Other wins include Double-Side Jigsaw, Rapid Core Eject Hole Saw, Black Series Bi-Metal Reciprocating Saw Blades, Tarantula Demo Circular Saw Blades, Stinger Mach-Blue Drill Bit Set, Brad Point Drill Bit Set, and Multi-Material Jig Saw Kit.
For further information about the 7 sizes of Spyder Stinger Mach-Blue Step Bits, please contact: Spyder Products info@spyderproducts.com
Ph: 1-888-471-2239
Website: https://spyderproducts.com