Posted February 21, 2023
MAX USA To Attend NPCA Precast Show
Visit MAX at the show February 23-25 in booth 2201.
---

MAX USA Corp., a leading manufacturer of industrial power tools, is pleased to announce they will be attending The NPCA Show in Columbus, Ohio on February 23-25. 2023 at booth #2201.
The NPCA features three days of exhibits on the trade show floor, there are plant tours, nearly 100 hours of education, the Keynote luncheon and, of course, the Final Event.
MAX will offer exclusive promos for our tools on the show floor, make sure you stop by get scanned and talk with a MAX sales representative to qualify. MAX will be there demonstrating our TwinTier® Platform on the RB441T, RB611T, and RB401T-E.
Be sure to stop by our booth to demo our tools firsthand! Giving our customers the opportunity to hold our products and see the benefits firsthand always leaves them breathless. That's why you will meet us at tradeshows and conferences all year round!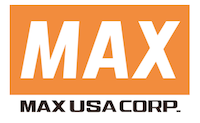 About MAX USA Corp.
MAX USA CORP., a subsidiary of Tokyo-based MAX Co., Ltd., is a worldwide leader in the manufacturing and distribution of professional grade power tools and accessories. For 80 years MAX has utilized its expertise and ingenuity to manufacture and distribute the highest-quality tools that include pneumatic nail guns, staplers and compressors, the first battery operated and stand-up rebar tying tools, fasteners and tie wire, including Buy America Certified.
Headquartered in Plainview, NY, MAX USA is part of the vast network of MAX locations that employ more than 2,000 people worldwide, including 200 R&D engineers.
For more information, please visit www.maxusacorp.com.