Posted April 5, 2023
Malco Announces First Building Exterior Trade-Pro of the Year Winners
Five building exterior professionals from across the U.S. honored with national recognition, $1,000 tool kits.
---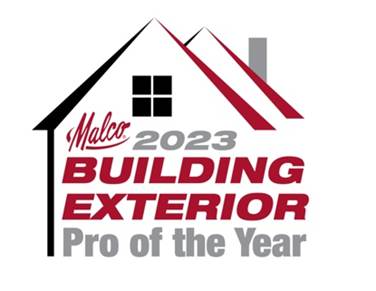 Malco Products, SBC, one of the nation's leading solution developers and manufacturers of a variety of high-quality tools for the building trades, today announced the winners of its first-ever Building Exterior Trade-Pro of the Year Award program. The new program recognizes and uplifts skilled construction professionals, who serve their customers and communities with their talents.
The program recognized five top exterior building contractors and technicians from across the U.S.:
Jordan Cortright, Owner of G8 Home Exteriors, Olivet, Michigan
Joshua Woolley, Owner of Woolley's Gutter Experts , Lemon Grove, California
Chickie McCafferty, Exterior Service and Repair Technician at Volpe Enterprises, Horsham, Pennsylvania,
Craig Hastings, Owner of C&C Construction, Millington, Maryland
Arron Wyman, Owner of Newt's Custom Construction, Abbot, Maine
Each of the winners will receive a Malco tool kit valued at $1,000, awarded by their local distributor.
"Malco is proud to recognize its first-ever group of Building Exterior Trade-Pro of the Year winners for their professional achievement, safety excellence and community contributions," said Malco president and CEO Rich Benninghoff. "These building professionals represent hard work and dedication to their craft, and we are excited to kickoff this program with such a worthy group of award recipients."
As a strong supporter and advocate of careers in the trades, Malco donates significant quantities of in-kind products and apparel annually to a variety of skilled trade education programs, competitions and events across the country. Malco also hosts the annual HVAC Trade-Pro of the Year award program, which is accepting nominations until June 30, 2023.
For more information about Malco Products, SBC, visit www.malcoproducts.com.