Posted June 1, 2023
MAX Launches Free Battery Promotion!
Promo runs now through June 30.
---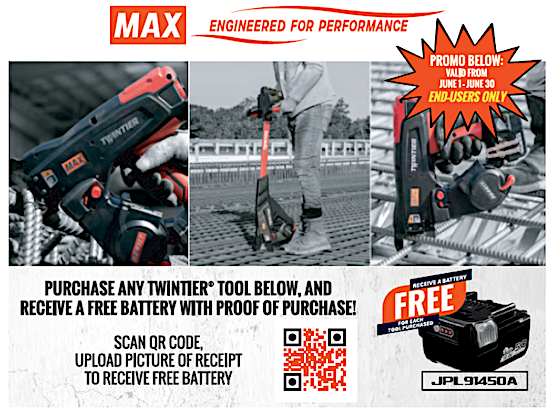 MAX is pleased to introduce a compelling promotional offer whereby customers can benefit from a complimentary battery upon purchase of any one of our highly regarded TwinTier® models, the RB441T, RB611T, or the RB401T-E.
This promotion is extended to our end users, who will have the opportunity to acquire a free battery alongside their newly purchased TwinTier.
The promotional period will start on June 1st and conclude on June 30th.
To receive your free battery please complete the provided form below and submit along with your receipt. *Tool must be purchased on or after June 1st.
All MAX products are protected by registered patents and design rights including trademarks. For details, please contact MAX.
About MAX USA Corp.
MAX USA CORP., a subsidiary of Tokyo-based MAX Co., Ltd., is a worldwide leader in the manufacturing and distribution of professional grade power tools and accessories. For over 80 years MAX has utilized its expertise and ingenuity to manufacture and distribute the highest-quality tools that include pneumatic nail guns, staplers, compressors, the first battery operated and stand-up rebar tying tools, fasteners, and tie wire, including Buy America Certified.
Headquartered in Plainview, NY, MAX USA is part of a vast network of MAX locations that employs more than 2,000 people worldwide, including 200 R&D engineers. For more information, please visits us at www.maxusacorp.com.