Posted August 29, 2023
NSK Wins Motion's Supplier of the Year Award
NSK is a global leader in bearings, ball screws, linear guides, auto parts and precision/industrial machinery solutions.
---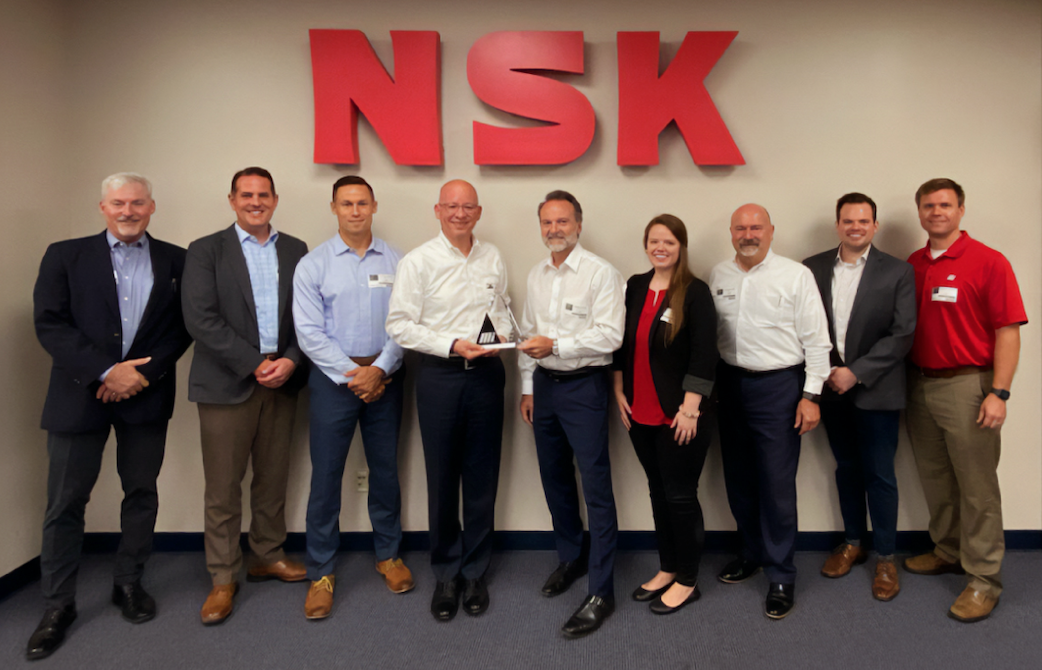 Motion Industries, Inc., a leading distributor of maintenance, repair and operation replacement parts, and a premier provider of industrial technology solutions, named NSK "2022 Supplier of the Year."
The award recognizes companies that have shown exceptional commitment to Motion through quality products and services and earned the highest score in the multi-faceted Supplier Stratification rating system.
The presentation took place July 18, 2023, at NSK's manufacturing facilities in Franklin, TN.
"NSK consistently seeks opportunities to increase their alignment with Motion's strategies," said Joe Limbaugh, Motion's Executive Vice President & Chief Operations Officer. "We appreciate NSK's forward-thinking and their efforts to ensure Motion's success in its growth plan."
"It's an honor to accept this award on behalf of everyone at NSK, from the U.S. team members to our factories around the world who support our local activities," said Tarek Bugaighis, Senior Vice President – Industrial Business Unit, NSK Americas, Inc. "The collaboration between our companies to serve the industrial market has been tremendous not only last year, but in the years prior as well, culminating with this year's Supplier of the Year award.
"Thank you to Motion and to everyone from both companies that work so hard to deliver exceptional value to the industrial market. It has been a pleasure to work with Motion, and I look forward to all we can accomplish together in the years ahead."
Motion's Supplier Stratification formula is a rating system that evaluates each supplier's performance in a number of Supply Chain, Marketing and Field Support categories.
With annual sales of over $8 billion, Motion is a leading industrial distributor of more than 19 million parts and supplies, including bearings; mechanical power transmission products; electrical and industrial automation components; hose, belting, and gaskets; hydraulic and pneumatic components; process pumps; industrial and safety products; seals and accessories; and material handling products and solutions.
To increase customers' productivity, the Company offers many value-added services, including engineering, fabrication, repair, and Industry 4.0 solutions across these product groups. In addition, Motion Automation Intelligence (Motion Ai) and Mi Conveyance Solutions were formed to offer a wide range of specialized, related products and innovative solutions for many applications.
Motion North America expanded its footprint in 2022 to include Kaman Distribution Group and now has over 600 branch and service center locations and 19 distribution centers. Mi Asia Pacific has 150 locations and 16 distribution centers in Australasia.
Motion serves more than 200,000 OEM and MRO customers in the equipment and machinery, food and beverage, pulp and paper, iron and steel, chemical, mining and aggregate, petrochemical, automotive, semiconductor, wood and lumber, medical and pharmaceutical industries. Motion is a wholly owned subsidiary of Genuine Parts Company (NYSE: GPC).
Visit the website at www.Motion.com.