Posted September 19, 2023
FastenMaster Wins Pro Tool Innovation Award
FastenMaster MVP multipurpose wood screws feature SureStart points for fast starts and TORX® ttap® drive systems.
---

FastenMaster's newly introduced MVP Multipurpose Wood Screw has been selected as a 2023 Pro Tool Innovation Award winner in the highly competitive 'Fasteners-Adhesives, Construction' category.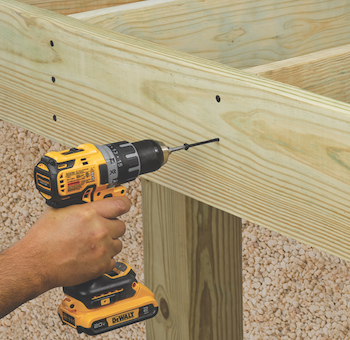 Designed for framing, interior remodeling, cabinetry and more, MVP fasteners feature FastenMaster's exclusive double-lead SureStart™ point for a fast start, and a TORX® ttap® drive system for stable, wobble-free installation. The fastener also features a durable ProjectLife™ Coating that delivers superior corrosion protection for the life of the project and a SureSink™ Head that countersinks into the wood without compromising clamping force.
MVP fasteners are available in six sizes from 1½- through 4-inches in half-inch increments, and come packaged in small packs of 100, project packs of 250 to 500 depending on the length, and in bulk quantities of 1,250 to 2,000 fasteners depending on the length.
In addition to its MVP fastener, the company's new EVO Deck Framing Connector, was also named as a finalist in the competition. Made of reinforced engineered polymer, EVO connectors are stronger than traditional steel connectors, won't rust, and are temperature and UV stable.
In addition, the design is adjustable and enables decking professionals to align either 2 x 8- or 2 x 10-inch pressure treated lumber to the ledger in seconds, without needing to temporarily tack joists in place during installation. The system is code-compliant and meets IRC requirements for deck joist hangers.
Winning PTIA products are selected by an independent panel of judges, composed of contractors, construction business owners, tradespeople, and media professionals, who annually judge and select the world's most innovative construction and outdoor power equipment products.
For this 11th annual competition, 99 different manufacturers submitted a wide assortment of over 465 products in the categories of power tools, hand tools, tool accessories, and fasteners for a chance to take home an award.
"It's a great honor for these new FastenMaster products to be recognized by this prestigious national award competition," said Web Shaffer, senior vice president and general manager of FastenMaster. "We have a long track record of developing innovative solutions engineered for PRO contractors, and we are very pleased that these two products have earned recognition in the Pro Tool Innovation Awards program."
FastenMaster, a division of OMG, Inc., is a brand of fastening solutions for professional contractors. Its products are engineered for structural, decking, and trim applications in residential construction, and its product line includes the LOK Line of structural wood screws, Tiger Claw Hidden Deck Clip System, TrussBRACE roof truss support system, as well as Cortex Hidden Fastening Systems for deck and trim applications.
For additional information please contact FastenMaster at 800.518.3569 or visit www.FastenMaster.com.