Posted October 10, 2023
HP Survey: Construction Workers Believe Tech Innovation Holds the Key to Improving Productivity Levels
New research shows 59% feel the sector is no more productive than when they began their careers.
---
News Highlights
Nearly two-thirds (62%) believe the industry is slow in solving productivity problems
71% think technological innovation will help improve shortcomings
Layout seen as particularly in need of innovation, with mistakes eating into margins
Availability of HP SitePrint layout solution announced across DACH region
HP Inc. has unveiled findings from its first 'State of Construction Productivity' survey, revealing a lack of progress in terms of improving construction's sluggish productivity levels. While labor productivity in manufacturing, a similar sector, has grown an average 3.6 percent a year over the past two decades, construction has lagged with a mere 1 percent increase over the same period, according to McKinsey.
The HP survey - which canvased the opinions of construction workers and decision makers from the US, UK and Germany - found that 60% of respondents agreed techniques and processes have changed little in the last 20-30 years.
"There is a clear acceptance within the industry that a problem exists, with less than 1% of workers believing the sector has no issue with productivity," comments Xavi Juarez, Director, HP Construction Services. "For survey respondents to have seen little improvement in productivity across their careers is remarkable, considering the advances in technology during this time. A greater focus on harnessing tech and automating certain tasks is surely key to helping construction meaningfully improve productivity levels."
Tech remains under utilized
Respondents agreed that technology has an integral role to play, with 71% seeing it as being able to solve the productivity puzzle. Remarkably, though, new innovations are not being prioritised - perhaps explaining the industry's lack of progress:
Only 3% - of CIOs said productivity-boosting technology had been introduced on-site at in the last 12 months
75% - of all respondents have seen no such technology deployed on-site over the past year
79% - estimated that less than a fifth of their annual budget is invested in on-site tech
A significant 25% - say their employer is not open to new technology
Respondents believe raising productivity levels can help the industry overcome various key issues, including:
64% - improve housing shortages
67% - alleviate project delays
66% - help attract the next generation of talent
71% - reduce criticism of projects in the public eye
Unproductive layout techniques a liability for firms
On average, impacted construction employees saw delays of over 15 days caused by layout (or setting-out) errors, with some (5%) enduring interruptions as long as three months. The cost of these reworks amount to 9.4% of the total project budget on average and a fraction under a fifth (19%) of the project's profit margin.
Mistakes aren't the only issue facing layout teams. Almost 9 in 10 (88%) of those surveyed have had challenges staffing layout tasks – a combination of both a lack of skills and a shortage of labor. Meanwhile, 70% are concerned about the potential for injury caused by manual layout techniques.
The results suggest that technology is seen as the answer, with 67% saying layout methods should have evolved further (as high as 74% in Germany), and 66% wanting layout tasks automated (rising to 78% amongst US respondents).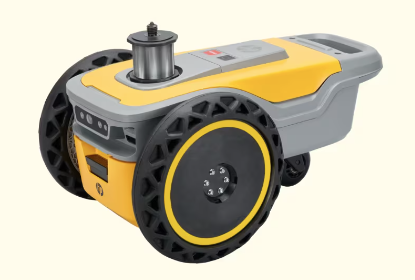 SitePrint to boost DACH productivity
HP SitePrint, an autonomous robotic solution designed to bring layout into the modern era, prints complex construction site layouts with pinpoint accuracy - empowering construction pros with as much as ten times the productivity of manual techniques.
Following its successful roll out in North America and the UK&I - including deployment on high profile projects such as Skanska's re-development of Penn Station in New York – HP has announced SitePrint's full availability in Germany, Austria and Switzerland (DACH), beginning November 1st.
"We're thrilled to be making our productivity-boosting HP SitePrint solution fully available to DACH customers," said Daniel Martinez, General Manager, HP Large Format Printing. "As the results of HP's State of Construction Productivity survey show, the sector is crying out for technological innovation. By digitizing what has long been a manual and time-consuming task, SitePrint makes it faster and easier for construction professionals to bring an idea to life on site, while reducing costs and side-stepping labor shortages."
About the HP State of Construction Productivity Survey
HP commissioned an online survey, managed by Censuswide, among a sample of 903 respondents, aged 18+, across the UK, USA and Germany – consisting of CEOs, CIOs, site managers, contracts managers, construction foremen, superintendents, and leadmen, construction dryliners, surveyors and fixers, setting-out/layout engineers and surveyors, BIM managers, as well as field operation managers and field engineers. The data was collected between 11.09.2023 - 14.09.2023. Censuswide abides by and employs members of the Market Research Society and follows the MRS code of conduct which is based on the ESOMAR principles.
About HP
HP Inc. (NYSE: HPQ) is a global technology leader and creator of solutions that enable people to bring their ideas to life and connect to the things that matter most. Operating in more than 170 countries, HP delivers a wide range of innovative and sustainable devices, services and subscriptions for personal computing, printing, 3D printing, hybrid work, gaming, and more. For more information, please visit: www.hp.com.