Posted October 31, 2023
MAX USA Corp. Unleashes Unbeatable Winter Bargains
Selected SuperFramer and SuperRoofer products are offered at discounted rates through December 31, 2023.
---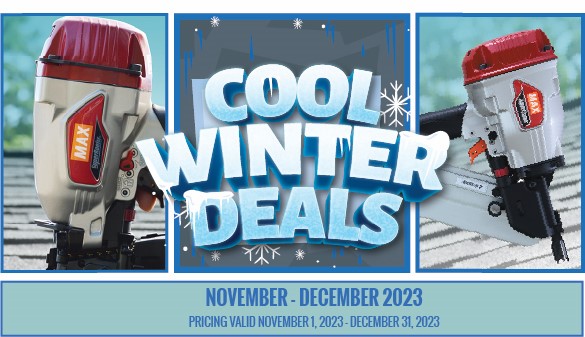 As winter approaches, MAX USA Corp. is thrilled to offer contractors a fantastic opportunity to acquire our cutting-edge SuperFramer® product line and SuperRoofer® at discounted rates.
From November 1, 2023, and running through December 31, 2023, our authorized dealers spanning the United States and Canada will introduce an exclusive winter promotion featuring our SuperRoofer® and select Nailers from the SuperFramer® range.
Within our network of trusted dealer locations, you'll discover unbeatable prices on the CN445R3, SN883RH3, SN890CH3/34, and SN883CH2/28, all renowned for their superior quality and performance.
To sweeten the deal, and only while supplies last, each purchase during this limited-time promotion will include a complimentary Bluetooth speaker, adding a touch of entertainment to the job site.
MAX is committed to providing the best solutions for professionals in the industry and dedicated to supporting dealers and contractors with top-of-the-line equipment. This limited-time offer is a testament to MAX's commitment to innovation, quality, and the success of its valued customers. Don't miss out on this unique opportunity to upgrade your tools and gear for the winter season.
All MAX products are protected by registered patents and design rights including trademarks. For details, please contact MAX.
About MAX USA Corp.
MAX USA CORP., a subsidiary of Tokyo-based MAX Co., Ltd., is a worldwide leader in the manufacturing and distribution of professional-grade power tools and accessories. For over 80 years MAX has utilized its expertise and ingenuity to manufacture and distribute the highest-quality tools that include pneumatic nail guns, staplers, compressors, the first battery operated and stand-up rebar tying tools, fasteners, and tie wire, including Buy America Certified.
Headquartered in Plainview, NY, MAX USA is part of a vast network of MAX locations that employs more than 2,000 people worldwide, including 200 R&D engineers. For more information, please visit www.maxusacorp.com.