MAX USA Hires New Northeast Regional Sales Manager
Greg Gondek joins MAX; will be based in Philadelphia.
---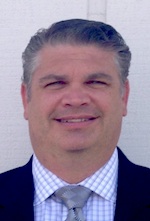 MAX is happy to announce the hiring of Greg Gondek as its new Northeast Regional Sales Manager.
Greg's career includes over 15 years of experience in sales and sales management in the tool and hardware industries. In his career, Greg has been involved with Distributor sales, outside sales, sales management and field sales training.
Greg has been married for 5 years to his wife Sarah. Together they have one child, Stanley (4). They currently reside in the Philadelphia area where Greg will be based.
You can reach Greg anytime at 610-517-9621 and ggondek@maxusacorp.com.
MAX USA CORP. is headquartered in Mineola, NY, and is owned by MAX CO., LTD. which is headquartered in Tokyo, Japan. MAX is recognized as a market leader in quality manufacturing of pneumatic nailing tools for over 70 years. MAX has several divisions employing more than 2,000 people worldwide including over 200 R&D engineers. Learn more at www.maxusacorp.com