Posted March 23, 2020
JLG and ABC Keystone partner on equipment safety training
JLG delivers new machines to Manheim, Pennsylvania training facility.
---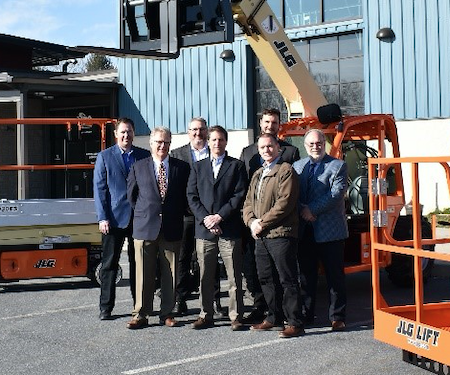 (L to R): Adam Frank, District Sales Manager, JLG Industries Inc.; Stephen M. Wiltshire, MS, STSC, Director of Safety, ABC National; Craig Edwards, Vice President – National Accounts, JLG Industries Inc.; Mark Leibman, Director of Business Development & Partnerships, ABC National; Brent Miller, Regional Vice President Northeast Region, JLG Industries Inc.; Rick Smith, Sr. Director of Global Product Training, JLG Industries Inc.; G. David Sload, President-CEO, ABC Keystone Chapter.
A strategic partnership between JLG Industries, Inc. and Associated Builders and Contractors (ABC) has resulted in enhanced equipment training at the ABC Keystone Chapter with the delivery of three pieces of equipment to the chapter training facility in Manheim, Pennsylvania, on March 5, 2020.
The equipment includes a rough terrain forklift, a 1930ES scissor lift and a E300AJP boom lift.
"We are excited for what JLG has brought to the table with this partnership, and we look forward to using this equipment in training our members," said Chapter President and Chief Executive Officer G. David Sload. "The strategic partnership between ABC National and JLG is helping ABC members develop people, win work and deliver that work safely."
JLG Industries Inc. and ABC National formed a strategic partnership in 2018 to help solve industry challenges with world-class education, training and equipment solutions. As part of this partnership, ABC Keystone member companies and chapter employees have provided user feedback to JLG Industries through time spent evaluating and testing equipment at the JLG facility in McConnellsburg, Pennsylvania.
In 2019, ABC Keystone's Director of Safety Services Kevin B. Keith became the first JLG equipment-trained instructor across ABC's 69 chapters. With the upcoming American National Standards Institute (ANSI) 92.20 suite of changes, this unique certification that Keith holds allows ABC Keystone to provide better training and service to its members and employees, resulting in a safer and more knowledgeable workforce.
"JLG is a valued ABC strategic partner and leader in the industry when it comes to the design and manufacturing of access equipment," said Greg Sizemore, ABC National's vice president of health, safety, environment and workforce development. "We're excited that our current and future workers will be educated using JLG equipment, which leads the industry in quality and safety."
"JLG was founded on the principal of providing people with a safer way to work at height more than 50-years ago," said Jennifer Stiansen, director of marketing, JLG. "Today, we remain passionate about pursuing the vision of our founder. We continually look for new ways to support the industry through innovative products, connected solutions, world class training and strategic partnerships such as the one formed with ABC."
For more information about The Keystone Chapter of Associated Builders & Contractors (ABC), visit www.abckeystone.org. For more information about JLG, visit www.jlg.com.