Posted May 18, 2022
Chris Keffer Named VP of Sales and Marketing for STIHL
Keffer joins STIHL from Stanley Black and Decker.

---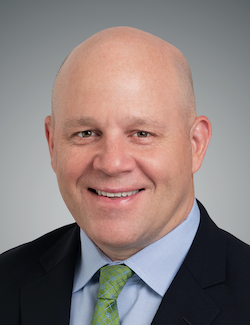 Chris Keffer has been named Vice President Sales and Marketing of STIHL Inc., and assumes his position on May 16, 2022. Keffer will be responsible for sales for the domestic and export markets, sales planning, e-commerce, new product development, all marketing programs, and branch operations throughout the United States.
STIHL Inc. supplies the majority of STIHL products for the U.S. market. As an integral part of STIHL Group's manufacturing and sales network, STIHL Inc. also supplies components and products for more than 100 markets worldwide. The company employs more than 3,000 people in the United States.
"We are pleased to welcome Chris to the STIHL organization," said Terry Horan, president and CEO of STIHL Inc. "At STIHL we believe in honoring our traditions of excellence while embracing our future. Chris brings proven leadership skills, a deep understanding of strategic development, a customer-centric approach to product management and development, and innovative marketing and sales and solution strategies to the STIHL Team.
"In addition to his experience in support of the independent dealer, and his knowledge of our market, he has the ability to leverage consumer insights and effectively collaborate to craft product and commercial strategies that will enable STIHL to further integrate our network of authorized local STIHL Dealers into our omnichannel approach to better serve our customers."
Keffer joins STIHL Inc. after a successful career with Stanley Black & Decker where he served in a variety of sales and marketing leadership roles, most recently as the President, Product Management for the Power Tools Group.
"I look forward to becoming part of the team at STIHL Inc.," said Keffer. "The STIHL commitment to quality is known throughout the industry, and our branch and distributor teams are world-class in their support of our network of more than 10,000 authorized local STIHL Dealers across the country. Together we will be developing sales and marketing programs that build even more awareness for our cordless and gasoline equipment, and use the latest technologies to communicate with our customers while making it even more convenient to find our dealers and purchase our products."
Keffer, a native of Swarthmore, Pa., received a Bachelor of Arts in Communications, and an Executive MBA from Loyola University in Baltimore, Md.
For more information or for the name of a local STIHL Dealer, call toll free 1-800-GO STIHL (1-800-467-8445) or visit STIHLusa.com.