Albion Square Bead Caulk Nozzles

Albion is proud to introduce Square Bead Nozzles for sausage and bulk caulking. Now you can lay down a flat 45° angle sealant bead in Fillet joints, Cove joints and other corner joints. The new 1135-3 and 1135-4 nozzles apply just the right amount of material which means less tooling and less waste! Easily turn the corner from vertical to horizontal without stopping.
The plastic Square Bead Nozzle seats itself reliably in the center of the joint so you can dispense accurately on the first pass. The bright, fluorescent color makes it easy to see the sealant as it is being applied. Trim the nozzle to match your joint size with a utility knife.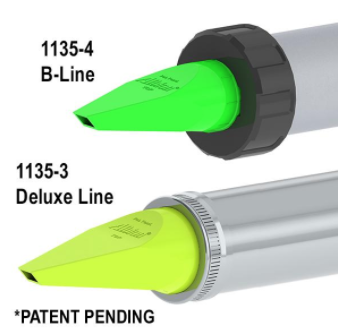 Ideal Applications:
Fillet Joints, Cove joints and other 45° angles that require a flat bead
Horizontal joints that will be finished flat
Glazing between glass and metal frames and smooth stone
Please call 856.235.6688 or email sales@albioneng.com.