Cables & Lights: Impeltronics Night Owl Double Barrel LED Flashlight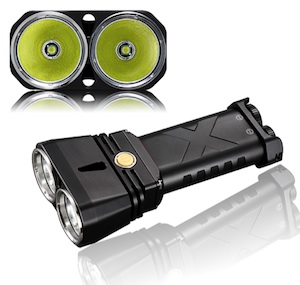 Impeltronics is now offering the Night Owl LED Flashlight, which offers 10 different light settings in one device. Providing a wide-range of versatility, the multiple settings even provide a double light capability with 1100 lumen output.
Whether you're seeking a flashlight for search and rescue, the job site or everyday purposes, the Night Owl Flashlight is also equipped with CREE LED lights, giving the user about 50,000 hours of bright light time.
Both output and runtime have been officially tested to make sure battery life holds up as specified. All functions of this clever light will operate on a single battery at about half the runtime.
Additionally, the Night Owl LED Flashlight comes well-equipped with a holster, a lanyard and a handy operator's manual, making handling easy and quick.
The Night Owl flashlight is constructed with an aircraft aluminum housing, stainless steel lens rings and diamond coated strengthened lenses. The aluminum has an anti-scratch, premium anodized surface.
Capable of lighting the way in extreme cold or extreme heat, the Night Owl is designed by Impeltronics with a variety of temperature ranges in mind. For days when the weather is toasty, multi-level cooling fins on the device keep it chilled protecting the internal electronics and LED. A scalable battery end-cap also includes a waterproof seal for improved versatility and usage in extreme situations.