Material Handling: Bessey Double Force All Steel Clamps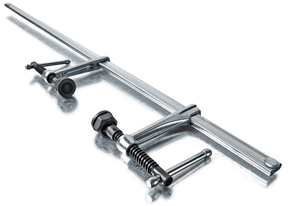 BESSEY has introduced a modular concept for the widest range of clamping applications. Add extra sliding arms or choose different sliding arms. Available in a choice of lengths or strengths to make a clamp that suits every need.
BESSEY offers two different rail stock offerings as well as a choice of rail lengths and accessories. Both rail stock configurations come standard with drop forged sliding arms, hardened ACME thread spindles and the BESSEY Morpad heavy-duty pad. The SLV Series has a 28 x 11 mm profile for clamping forces up to 1,450 lbs. while the GSV Series features a 30 x 15 mm rail configuration nominally rated at 2000 lbs. of clamping force.
Key Features:
Easy to balance the work piece with central positioning on the clamp
Long service life thanks to special heat-resistant pressure plate with sintered steel insert
Can be converted without tools for spreading tasks
Clamp can be fed through an opening in the work piece/component