Material Handling: Presto Skid Lifter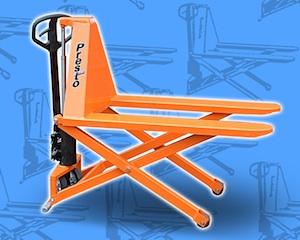 Presto Lifts, Inc. announces the availability of a new skid lifter. Designed to pick up a load on a skid or open-bottom pallet, the Presto Skid Lifter can transport the load to a workplace and then raise it to a convenient working height. It is ideal for feeding presses, binders, cutters, conveyors and a wide variety of production machines.

The unit has a 3,000-lb. capacity and a raised height of up to 32 inches. Lift is achieved by a two-speed manual pump. For loads under 600 lbs., the unit automatically goes into "Quick Lift" mode so the forks can be raised the full 32 inches in just 18 strokes of the ergonomically-designed steer handle.
For heavier loads the unit shifts to "Ergo Lift" mode, raising the forks to full height in 55 strokes.
Automatic load stabilizers prevent the unit from being moved when the load is raised. Standard forks are 45 inches long with an outside dimension of 27 or 20.5 inches.