Gas Engine Equipment: Bomag BW100ADM-5 Light Tandem Roller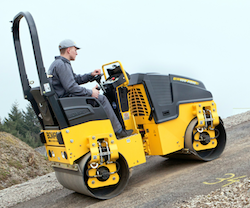 Featuring a specially developed operator's platform, BOMAG's new BW100ADM-5 tandem vibratory roller provides optimal all-around visibility and intuitive controls for highly efficient operation.
A new Smart Drive steering wheel has a smaller diameter to provide more room for the operator and a clear view of all controls.
The driver's platform also features a multifunctional travel lever and adjustable seat that provides added comfort and an excellent view of the drums.
Additionally, modern circular instrumentation on the dashboard is complete with warning signals, hour meter and fuel level indicator.
The BW100ADM-5 is powered by a 20.2-horsepower, water-cooled Kubota diesel engine that includes ECOMODE, a system that automatically idles the engine to conserve fuel during inactivity. The roller delivers 3,822 pounds of centrifugal force at a frequency of 3,780 vpm, while offering a working width of 39.4 inches.
The BW100ADM-5 is also equipped with BOMAG's Intelligent Vibration Control to ensure consistent compaction results.
In contrast to most rollers on the market that have travel motors hanging out from the drums, the BW100ADM-5 is built with its travel motors contained within the drums. This compact design enhances maneuverability, particularly when operating in tight spaces or near obstructions.
A 26.4-gallon water tank and pressurized spray system feature triple-filtered nozzles that deliver sufficient water coverage to the drums. Additional windscreen protection keeps water dispersal consistent even in windy conditions.
The roller's durable composite hood provides easy access to the engine, while the steering column allows quick entry to view central electronics. Service needs are further simplified by a maintenance-free, bolt-on articulating and oscillating joint and flexible scrapers for each drum. Front, center and rear lift points make transport easy and reduce unloading times.
Standard safety features on the BW100ADM-5 include a spring-applied, hydraulically released parking brake, ROPS with retractable seat belt, back-up alarm, emergency stop button, and front and rear working lights for night operation. The roller's engine hood and instrument panel are lockable to protect against vandalism.
For more information, call 309-853-3571, toll-free 800-782-6624, fax 309-852-0350, e-mail info.bomag@bomag.com or visit the BOMAG website at www.bomag.com/us.