Gas Engine Equipment: Bartell Morrison Mudder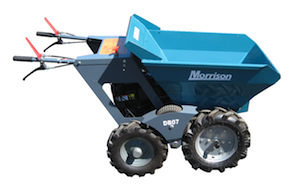 Bartell Morrison's new all wheel drive 6 cu ft Mudder dumper buggy boasts no gear changing thanks to its integrated Eaton hydrostatic transmission.
Features inlcude:
Durable powder-coated finish.
Powered by a reliable Briggs and Stratton OHV engine.
Four-wheel drive system for stability and traction.
Throttle control, forward, reverse, dump bucket, and emergency stop levers conveniently located on handles.
Easy to operate and maneuver and fits into tight spaces.