Gas Engine Equipment: General Equipment goes with Honda GX35 engines on Model 240 Hole Diggers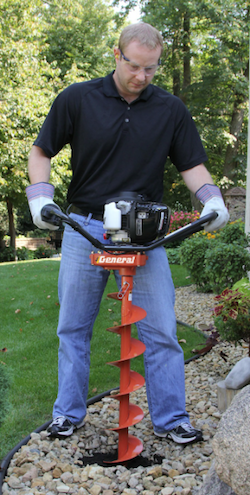 General Equipment Company has announced that it will use Honda GX35 all-position, four-stroke engines on its 240 Hole Diggers. The GX35 is an air-cooled, 35.8-cubic-centimeter-displacement engine that provides 1.3 net horsepower, and produces a maximum drilling torque of 50 ft-lbs. (68 N.m.).
The all-position feature of the engine allows the 240 to be operated and stored in any position without causing service issues.
Additionally, the four-stroke design provides higher performance and fuel economy than two-stroke alternatives, while eliminating the hassle of mixing fuel and oil.
The 240 is a one-man, hand-held unit that is intended for digging holes up to 8 inches (203 mm) in diameter in a wide variety of unconsolidated soil classifications.
Standard auger digging depth is 30 inches (762 mm). The available 15-inch-long (381 mm), plain-tube extension can be used to extend digging depth when required.
The 240 features the unique Comfort Zone handle configuration that is designed to maximize operator strength while minimizing any kickback experienced during the hole digging process.