Bon Tool Asphalt Checking Straightedge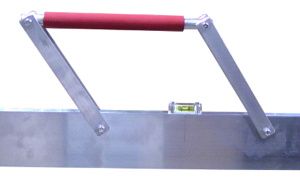 Bon Tool Co. has expanded its offering of asphalt tools with the introduction of a new Asphalt Checking Straightedge. The aluminum straightedge includes a built in vial to easily confirm the asphalting projects are level.
Generally the aluminum straightedge is used to detect particularly low areas which may create pooling or to otherwise detect uneven paved surfaces. The level vial provides a more accurate reading of the alignment of the surface.
Bon's new straightedge is made of 1" x 4" aluminum and is available in three lengths:
#19-155, 8-foot Asphalt Checking Straightedge
#19-156, 10-foot Asphalt Checking Straightedge
#19-157, 12-foot Asphalt Checking Straightedge
The tool is equipped with a fold down comfort grip handle for ease in transport on the job.
This new tool complements the Bon product line for asphalt finishing which includes sharp and blunt tooth lutes, rakes, brooms, crack filling hoes and squeegees, tampers and irons.
For more information contact the sales department at 800-444-7060 or visit Bon's website at www.bontool.com.