GOJO LTX and ADX Skin Care Dispensing Systems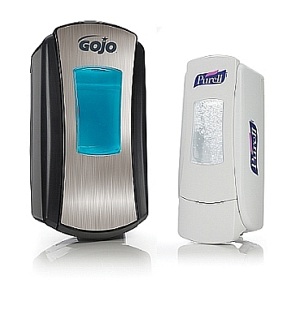 GOJO continues its commitment to engineering reliable, easy-to-service skin care systems with the launch of the new LTX and ADX Dispensing Systems.
Designed to promote human well-being, the LTX touch-free and ADX manual Dispensing Systems feature an attractive design that fits easily between restroom sinks or other tight areas. The systems have large sight windows to allow for at-a-glance refill checks. Their easy-to-open design and GOJO SANITARY SEALED Refills snap into place quickly, minimizing labor time while protecting users from the contamination risks of bulk soap.
In addition, the dispensers utilize GOJO CONTROLLED COLLAPSE Bottles, which are engineered to hold their shape longer while emptying to allow for a more attractive appearance.
"The GOJO LTX and ADX Dispensing Systems set the standard for soap dispensing and refill systems for businesses and organizations dedicated to proper hand hygiene," said Rick Henry, Senior Product Manager, Dispensing Systems at GOJO. "In addition to dependability and ease of use, the LTX and ADX Dispensing Systems reflect the GOJO commitment to sustainability by featuring GOJO SMART-FLEX Bottles, which are made from durable, recyclable PET material to provide crystal clarity while using 30% less material than standard rigid HDPE bottles."
GOJO offers customers the high-capacity LTX-12 system (1200 mL) for fewer change outs in high traffic areas as well as the compact LTX-7 (700 mL) for small-footprint installations. The ADX-12 has a 1250 mL capacity while the ADX-7 holds 700 mL. The dispensers can be personalized from a selection of colors and patterns to fit your style and the addition of a company's logo using the GOJO MESSENGER Dispenser Station or window clings. For more information on ways to customize the dispensers, visit www.gojo.com/dispenser-personalization.