Brass Knuckle Read Eyewear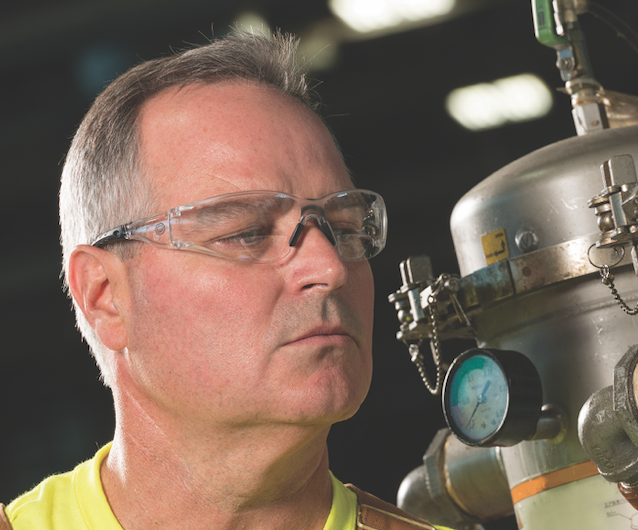 A worker who wears corrective lenses is not exempt from wearing proper eye protection. Typical corrective eyeglasses don't provide the necessary impact and side protection of work-grade spectacles and goggles. These workers could wear over-the-glasses (OTG) protective eyewear. But, for a less-bulky, maximum-comfort solution, there is Brass Knuckle® Read (BKREAD-6010).
Read is great-fitting, cost-effective, super-light bifocal eye protection available in five diopter strengths: 1.0, 1.5, 2.0, 2.5, and 3.0. A durable polycarbonate frame provides extra side protection and all-day comfort. And of course, the clear lenses are ANSI-rated hard-coated polycarbonate with BK-Anti-FOG.
BK-Anti-FOG lasts a full two minutes, 15 times longer than European EN 166/168, the only current documented standard in the world. It is permanently bonded to the lens, will not wear off or wash off, and retains its anti-scratch, anti-static, and UV protection properties.
The number of Americans between the ages of 55 and 64 in the workplace will increase by nearly 44 percent over the next decade. These workers will continue to read gauges and valve settings, set machinery controls, and monitor production screens on the plant floor. They will calibrate, cut, and tune. And they will take their protective eyewear off and slide on their readers to make this close work easier — unless we see the problem before the accident happens. Even the revised ANSI/SEA Z87.1-2015 standard recognizes the need for protective readers that offer magnification for the wearer. Brass Knuckle® meets this need with Read BKREAD-6010.
For more information, visit https://www.brassknuckleprotection.com/.