Simpson Quik Drive Cordless PRO300SG2 Decking System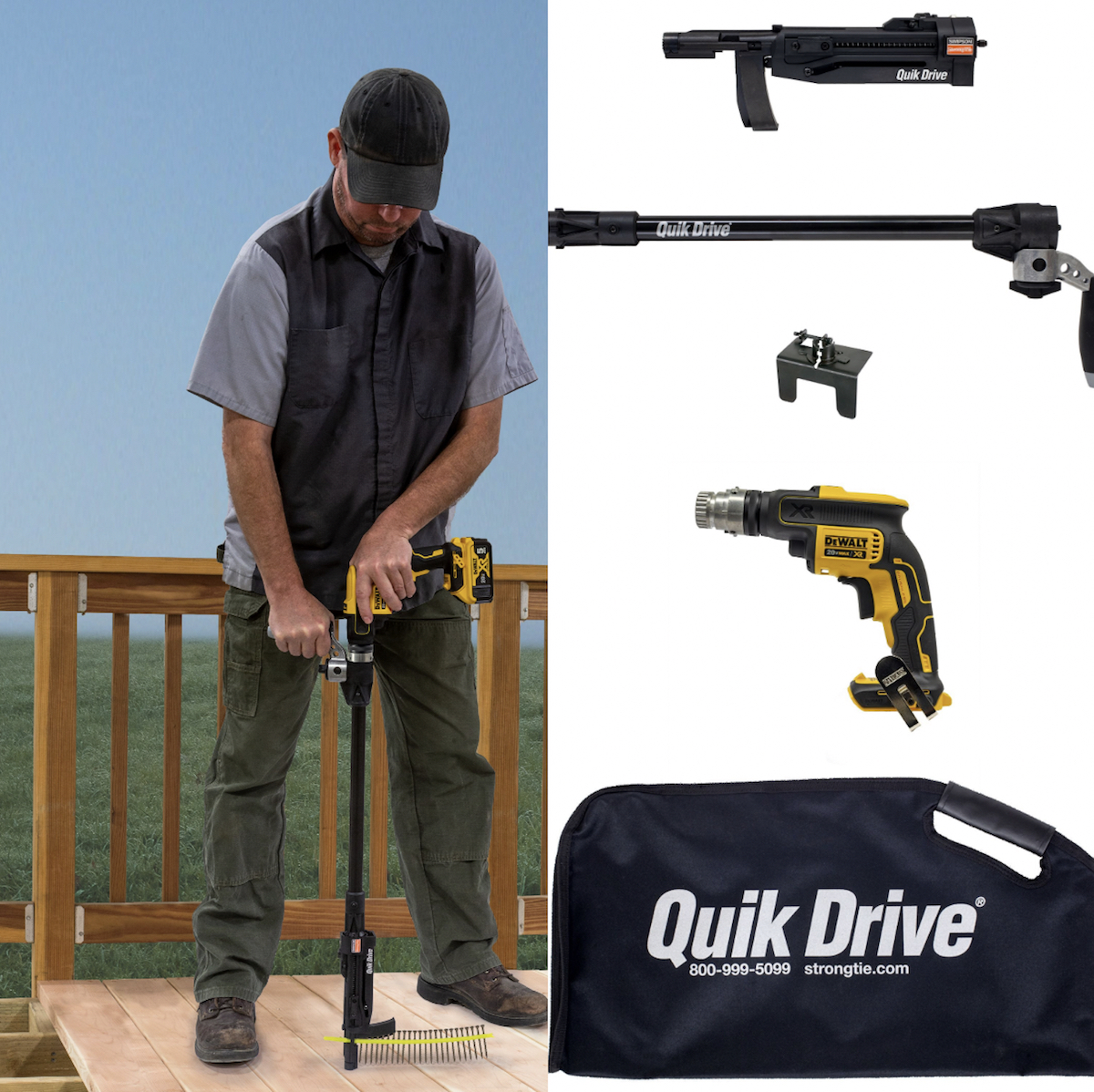 Simpson Strong-Tie, the leader in engineered structural connectors and building solutions, has introduced a new, lower-cost combo kit for its popular Quik Drive® Cordless PRO300SG2 auto-feed screw driving system.
Powered by a DeWalt® cordless driver motor, the Quik Drive Cordless PRO300SG2 Decking System is designed for stand-up operation to make deck and subfloor installations fast and easy, and it's now available without having to purchase the duplicative charger and 5-amp batteries that most contractors already own.
A powerful 2,000 rpm, 20V cordless DeWalt brushless driver motor matched with a lightweight extension arm make the Quik Drive system more ergonomic than corded and pneumatic systems: there's no cords to trip over, no heavy equipment to set up, and more freedom to move about the work area untethered.
With advancements in low-torque fastener designs to Simpson Strong-Tie collated Deck-Drive™ DSV Wood screws and Strong-Drive® WSV Subfloor screws, contractors are now able to drive more screws per battery charge than ever before, and since cordless tools require less skill training to use, an apprentice installer can keep pace with seasoned veterans using heavier-duty tools.
"This economical cordless decking system provides great value to decking contractors and subfloor installers by providing them with the tool, accessories, and extensions they need without requiring them to buy the batteries and charger they already have," says Simpson Strong-Tie product manager Brandon Ward. "The cordless design helps promote mobility and productivity, and the Quik Drive extension enables stand-up driving to reduce user fatigue, too."
Available at building supply retailers nationwide and backed by expert service and technical support, the Quik Drive® Cordless PRO300SG2 Decking System includes the cordless DeWalt DCF624 20V brushless driver, the G3 lightweight extension and PRO300S and PRO200S attachments from Simpson Strong-Tie, a protective soft case, and a screw quiver for easy loading.
To learn more, visit go.strongtie.com/quikdrivecordless.