Festool RSC 18 Cordless Reciprocating Saw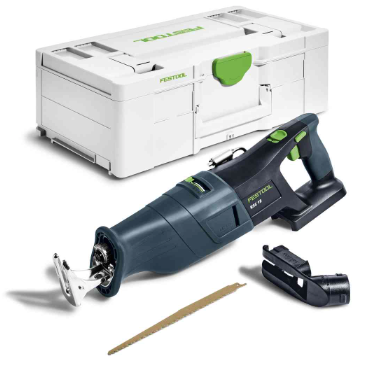 The Festool RSC 18 cordless reciprocating saw is powerful, fast and durable. With its brushless EC-TEC motor, switch-activated, fast-cutting, pendulum stroke and low level of vibration, the saw is smooth as well as fast to easily cut through the toughest materials.
Optimized internal mechanism is both long-lasting as well as efficient - directing all of the power into the saw blade and not into the saw for smoother operation and less vibration for even greater control.
Conveniently store the RSC 18, including all the accessories, in the Systainer so that they are well protected and easy to find. A range of blades are available for nearly any application.
And in true Festool form, dust extraction is available by means of the included suction adapter to help keep the messiest jobs cleaner.
Powerful: thanks to the powerful EC-TEC motor and switchable fast-cutting pendulum stroke
Extremely low level of vibration: for smooth and controllable cuts, which helps to reduce fatigue to the user and the saw
Extremely robust: made for the toughest day-to-day applications at jobsites
Capable: with the the right saw blade for nearly every material
Quick-release chuck: enables quick, contactless changing of the saw blade
Convenient: everything stored neatly in the appropriate Systainer
Easy to control: smooth start-up and perfect control of the stroke rate thanks to the large variable speed trigger
Cleaner work: with the dust extraction device included with the saw
Visibility: the integrated LED provides optimal illumination of the cut
Versatile: the saw blade can be inserted upside-down (teeth up), making it possible to saw up to the wall, ceiling or floor without any problems
Protected: fully covered by Festool Service