Cable Installation: Calbrite UL Approved Stainless Steel IMC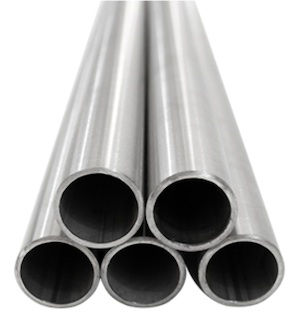 Calbrite is pleased to announce the UL approval of their stainless steel threaded and non-threaded IMC. This recent addition to UL / CUL 1242A offers Calbrite's customers a cost-effective alternative to stainless steel rigid conduit.
While other conduit manufacturers provide IMC in galvanized steel, Calbrite's offering is the only IMC manufactured from stainless steel, ensuring a long lifetime in corrosive, harsh environments, and wash-down applications, and effectively utilizing a lighter weight and pliability.
Stainless steel IMC provides a reliable, durable conduit that ensures uptime, increases productivity and provides a long service life in industrial and commercial applications.
Calbrite's IMC is manufactured in type 304 and 316 stainless steel to meet any stringent sanitary environment, and as is also available with or without threads. The threaded conduit can be used with compression or standard threaded couplings.
Equivalent to stainless rigid conduit, one threaded coupling is included with each length sold. The standard threads accommodate all the threaded stainless couplings, device boxes, conduit bodies, and other electrical fittings.
The non-threaded IMC offers simplified installations, as the conduit can be easily connected with the use of Calbrite's NEMA 4X approved stainless steel compression connectors, which eliminates the need for threading on the jobsite. This allows for quick and economical installation of conduit.
"We're excited to offer the industry's first stainless steel UL / CUL approved IMC, and add it to Calpipe's extensive list of UL approved products," said Matt Westerfield, Director of Operations for Calbrite. "Our UL listed stainless steel IMC, which is domestically produced in our US manufacturing facilities, simplifies installation, as no special tools are required, and due to its lighter weight, provides our customers with additional cost savings in shipping, handling, and labor costs.
Threaded and non-threaded IMC is currently in stock and available in standard 10' lengths in 1/2", 3/4", 1", 1-1/2" and 2" trade sizes. Any custom length of IMC needed is available up to 20' in length. All Calbrite stainless conduit is polished with a standard "brite" finish to increase corrosion-resistance and aesthetic appeal.
Calbrite's stainless steel IMC is Underwriter Laboratories listed for USA and Canada standard 1242A - File # E363502.
For more information, visit www.calbrite.com; email info@calbrite.com or call (219) 844-6800.