Cable Installation Tools: Calbond PVC Coated Conduit, Fittings and Accessories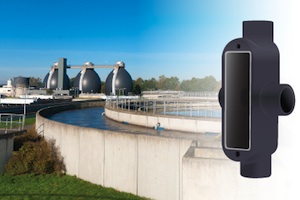 Featuring a 40-mil PVC exterior coating and a 2-mil urethane interior coating, Calpipe Industries introduces Calbond PVC coated rigid steel and aluminum conduit and conduit fittings.
The quality couplings and fittings are double-coated, both inside and out, with a 2 mil coating of urethane. The exterior is then coated again with a 40 mil PVC coating on top of the urethane. All fittings incorporate flexible overlapping sleeves that ensure a tight seal at every connection, ideal for use in water and wastewater facilities.
Calbond is UL listed and NEMA RN-1 compliant, with no exceptions, and is UL6 listed with both the zinc coating and PVC coating as primary protection against corrosion.
These same industry standards reference the appropriate American Society for Testing and Materials (ASTM) test methods, including ASTM D2247-11, the standard practice for testing water resistance of coatings is 100% relative humidity, and ASTM D1308-02, the standard test method for effect of household chemicals on clear and pigmented organic finishes, making Calbond the ideal choice for the harsh environment found within water and wastewater facilities.
For more information, visit www.calbond.com; email info@calbond.com or call 562-803-4388.