Calculated Industries Studmark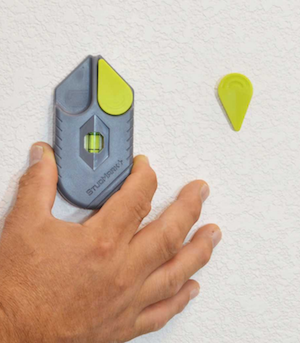 In addition to its industry standard calculators, Calculated Industries is bringing its newest lineup of tools to the IBS Show January 9-11, 2018 in Orlando, Florida.
A great example of improving on an existing tool is the Stud Mark stud finder (shown). CI has two models, the Studmark and the Studmark+. They work similarly using only magnets to detect screws or nails to help locate a stud behind sheetrock and other building material. Their compact design incorporates powerful rare-earth magnets located at each end of the unit's base which enables users to locate studs quickly.
Improving on its original AirSHIM, Calculated Industries (CI) developed the more powerful inflatable prybar AirSHIM Pro XL. This contractor-grade leveling tool enables a worker to move, adjust or support objects up to 500 pounds. It is designed to help professionals and DIYs install and level windows, doors, cabinets, appliances and more by themselves.
"CI's 2018 lineup of new tools incorporate much needed improvements to long-valued trade tools," said Steve Kennedy, President of Calculated Industries. "We took feedback from seasoned pros on what they would like to see different in these tools, plus we obtained the latest in tool technology and went out and made their ideal tool."
Another exciting improvement is the AccuMASTER Digital Angle Finder Ruler. It is a compact 8-inch long tool that helps craftsmen find the full range of precise angles from 0-360° with both inside and outside angles. Its stainless steel rulers and larger LCD display will provide for years of easy use. To measure in awkward spots, the Angle Finder incorporated a locking knob to hold the "arms" in place as well as a "Hold" button for the display to capture the new angle.
The AccuMASTER XT Moisture Meter is designed to easily determine moisture content in wood, drywall, dirt, concrete, and more. It is a simple yet accurate tool for homeowners and professionals to use in quickly checking moisture levels. All it takes to use the meter is to press the test pins into the material you want to measure. The moisture content (MC) is displayed as a percentage. Knowing the MC helps you know if lumber is ready for building, firewood is ready to burn or furniture is ready for varnish.