Channellock SpeedGrip Pliers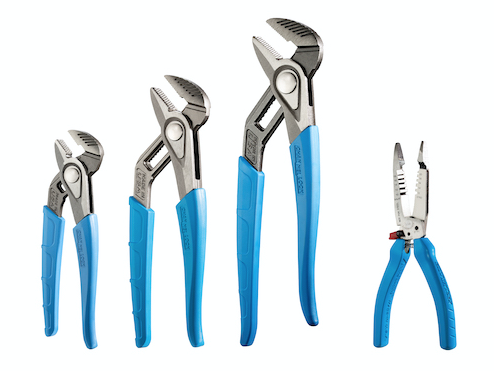 When it comes to hand tools, 90% of American pros equate American-made products as the highest quality—and when the product is crafted with 100% American-made materials (like our CHANNELLOCK ® Pliers made with forged high carbon U.S. steel), pros don't have to worry about the dependability of their tools.
CHANNELLOCK® SpeedGrip™ pliers in 8-inch, 10-inch and 12-inch sizes make fast and easy non-slip adjustments so you can get the job done even quicker. Laser-hardened crosshatch teeth grip stronger and last longer thanks to innovative engineering. There is also a reaming feature for easy deburring of pipe.
SpeedGrip™ features a fast and easy push-button adjustment that locks securely into undercut channels, along with strong, laser heat-treated crosshatch teeth that grip 2.5 times better than classic CHANNELLOCK ® 90-degree teeth.
Finally, like all CHANNELLOCK® pliers, SPEEDGRIP™ 428X Tongue & Groove Pliers are made in the USA from high carbon U.S. steel for ultimate strength and have comfort handles with no-slip grips.
FAST and EASY push-button adjustment locks securely into undercut channels
STRONG, laser heat-treated crosshatch teeth grip 2.5X better than traditional CHANNELLOCK 90-degree teeth
SOLID alloy steel fastener is strong and dependable
SAFE-T-STOP® feature prevents finger pinch
REAMING feature for easily deburring pipe
FORGED high carbon U.S. steel for ultimate strength is specially coated for rust prevention
CHANNELLOCK BLUE® molded non-slip grips for ultimate control and comfort
100% MADE IN USA
The CHANNELLOCK® 968 Forged Wire Stripper stands out from other wire cutters as the ultimate multi-tasking tool. It combines the precision of needle nose pliers and the strength and durability of forged pliers with the functionality of a wire stripper. This tool not only cuts like butter, but is also incredibly durable.