Checkmate Atom Xtreme 6-foot Self-retracting Lifeline

Checkmate, the U.K.-based Pure Safety Group (PSG) brand, unveiled its new Atom Xtreme 6-foot self-retracting lifeline (SRL) in North America. The product is significant in that it is the smallest and lightest fall arrest block in the world and one of a select few Checkmate products available in North America.
"The Atom Xtreme is a totally new concept in design engineering, featuring a revolutionary triple micro pawls lockout system and full internal braking mechanism never before seen in an SRL," said Oliver Auston, chief innovation officer for PSG. Auston adds that the brand's expansion outside of Europe was part of its strategy when Checkmate joined the PSG family in 2018. The first Checkmate product launched in North America, the TR3 tripod for confined space rescue and lifting, was announced in April 2019.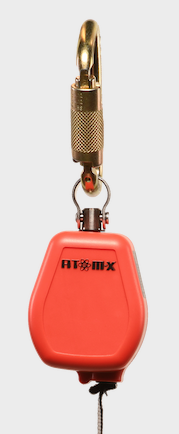 The Atom Xtreme's lifeline is made of Dyneema webbing. It features three micro pawls that operate independently for faster lock on. Its internal slipping brake controls the energy from a fall without the need for an external energy absorber. The load-bearing steel chassis is internal and hot rolled to provide a structural metallic core and protected by durable composite external protective housing.
The product's swivel incorporates a fall indicator which clearly shows if the device has been subjected to a shock load and has a 360° rotation and 180° pivot to ensure the block remains in the correct orientation in any working condition. Connector options include steel and aluminum snap and rebar hooks. The alloy scaffold hook is rated for 5000 pounds and gate-rated for 3600 pounds.
The 25/32" eye or the fall indicating swivel top connection allows connection to a range of karabiners and rebar hooks, and the external tail webbing allows for easy reach when attached to the read D ring.
The SRL is offered in single and dual configurations and accommodates a user weight of up to 420 pounds. It meets ANSI Z359.14 2014 Class A and ANSI A10.32:2012 standards and OSHA 1920 and 1926 Subpart M.
Pure Safety Group (PSG) is the largest dedicated fall protection company in the world, providing high-performance and professional height safety equipment, tool tethering products, textile lifting and lashing products and services such as training, engineering and onsite consultation. Its more than 350 employees serve customers in the construction, oil and gas, energy, utilities, telecom, mining and transportation industries.
PSG was formed by a team of industry veterans with a family of companies and brands including industry-leading height safety companies Guardian Fall Protection, Checkmate and Stronghold by PSG. Houston, Texas, is home to PSG global headquarters and training center with a second training center located in the U.K. For more information, visit www.puresafetygroup.com.