MAX USA NF255SF2/18 SuperFinisher 18 gauge Brad Nailer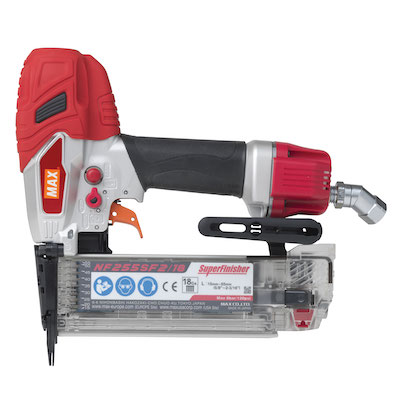 MAX USA CORP., Plainview, NY, announces the availability of its new NF255SF2/18 SuperFinisher to North and South American markets.
This far from typical 18ga. brad nailer, which can be used for finish & trim, door/window casing, cabinet, panel assembly and subflooring applications, has several innovative features that set it apart from a conventional brad nailer.
The NF255SF2/18 SuperFinisher was constructed with a Precision Point Contact Nose, which allows users to fasten trim in narrow spaces and also guides nails to a precise area of the work surface, which is especially important when toe nailing.
This nail gun's Flat-Top Design allows nails to be fired as close as 1/8" from any vertical wall or surface. With Enhanced Driving Power this SuperFinisher can consistently shoot brad nails into hard woods.
Patented features such as an Air Duster disburses air to quickly clear dust and debris from the work surface. The strategic placement of the air duster button allows the user to easily shift from gripping the tool, to blowing the work surface clean. Another feature designed to keep the work surface clean is a No Mar Contact Tip, which eliminates the appearance of driver marks on wood trim.
Built-In Surface Protection Shields, which include a thermoplastic elastomer cylinder cap and strategically placed plastic components, prevent the tool's metal parts from scratching finished work surfaces. To further prevent damage to work surfaces, the NF255SF2/18 has an Anti-Dry Firing Mechanism that prohibits the tool from firing when 7 nails remain in the magazine.
MAX USA CORP. is distributing the NF255SF2/18 SuperFinisher through professional tool and nail dealers.
MAX USA CORP. is headquartered in Plainview, NY, and is owned by MAX CO., LTD. which is headquartered in Tokyo, Japan. MAX is recognized as a market leader in quality manufacturing of pneumatic nailing tools for over 75 years. MAX has several divisions employing more than 2,000 people worldwide including 200 R&D engineers.
To learn more about the NF255SF2/18 you can call MAX at (800) 223-4293 or visit us on the web at www.maxusacorp.com.