Complete Pro-Grade 23 Gauge Headless Pinners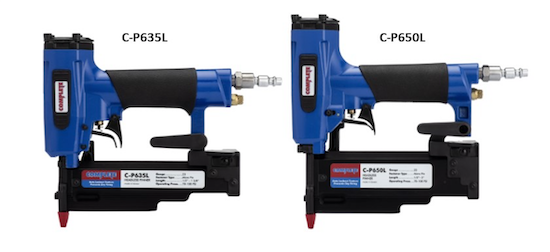 The Complete Headless Pinners offer a powerful and dependable design, featuring the ability to easily drive longer pins into dense materials. The aluminum cylinder and piston stand up to continuous use, while helping to prolong service intervals and keeping down time minimal. The easy load magazine automatically adjusts to different length pins, and features a indicator window to know when a reload is needed. The slim nose allows for easy placement into tight corners or notches.
Both models feature dry fire lockout, and a double trigger to prevent unwanted firing.
Each tool comes with a heavy duty carrying case, tool oil, extra no-mar pad, and a belt hook. Complete 23 Ga Headless Pins are available in 1/2", 3/4", 1", 1-3/8", and 2" lengths.
The model C-P635L shoots 1/2- to 1 3/8-inch pins and weighs 2.21 pounds
The model C-P650L shoots 1/2- to 2-inch pins and weighs 2.68 pounds
Phone: 888-392-9947