Li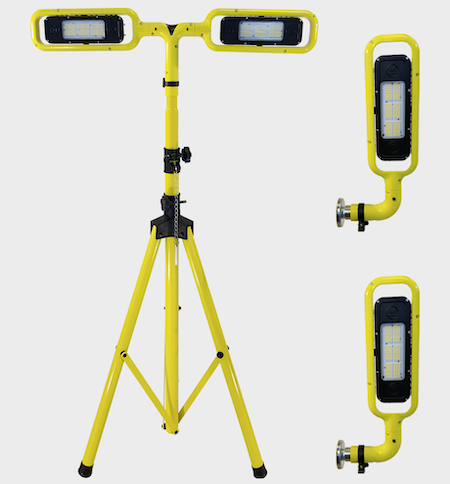 nd Equipment, a five-time award-winning company announces the official launch of the Beacon Infinity Floodlight. The Beacon Infinity Light replaces all flashlights, task lights, floodlights, wide area lights, and much more in a single unit.
Versatile, durable, and completed with a futuristic design, the Beacon Infinity Light is transforming the very idea of a floodlight for electricians and contractors alike.
The Infinity light is extremely durable, and built to withstand the roughest conditions thrown at it. It not only surpassed military grade drop test requirements, but the Beacon Infinity Light has been tested and will survive a 30-foot drop onto concrete and still power through.
What separates the Infinity Light further is the ability to simply click into multiple mounting options within seconds. A built-in clickable attachment allows the Infinity light to efficiently change the lighting mount from a tripod, to a floor stand, to a magnet attachment without a moment's hesitation. Electricians no longer have to waste time fidgeting with different flashlights, and contractors can rest easy with a single light that can be used for countless tasks on a single job.
At only 14" long and 4.5" wide, the unit fits into any contractors tool box with ease and weighs a mere 2.25lbs to become ultra-portable. Constructed with high-impact plastic on the outer shell for durability, the inner shell's light housing has the capability to swivel in 360 degrees without ever having to move the base.
The Beacon Infinity Light boasts a bright 5400 lumens of light output while only using 40W of power. Rated for more than 50,000 hours of 24/7 use, the light will always be cool to the touch with innovative heat exchange technology that dissipates heat away from the LED lens. Whatever your light requirements, the Infinity Light will meet them and outperform all your expectations.
"The floodlight has not changed much in the last 50 years of lighting, even though technology has. The Infinity Light is our adaptation of a new age in lighting, it can keep up with the demands of the industry and still provide unparalleled light output and durability." — Brian Astl, President of Lind Equipment.