Greenlee Cordless G1 Versi-Tugger Handheld Puller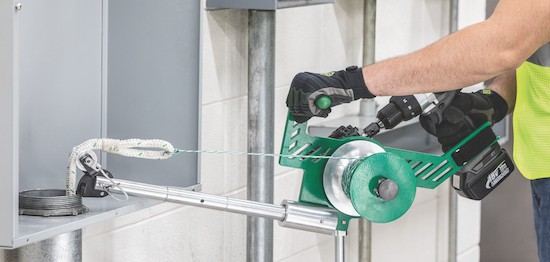 Emerson announces the new Greenlee G1 Versi-Tugger. The versatile and portable G1 is designed for pulls normally done by hand and can pull up to 68-percent faster when compared to manual pulling.
"We engineered and built G1 based on honest feedback from professionals," said Adele Hendrix, product manager for Greenlee, Emerson. "We learned being fast wasn't only about pull speed. From setup and pulling to unspooling the line after – the entire process should be quicker than pulling by hand. Our design delivers that speed."
The patent-pending design features a tapered capstan that is capable of handling up to 1/2-inch rope. When used to spool pulling line or mule tape, the tapered capstan allows the spooled line to slide off in seconds with no need to reverse the drill.
Many of the G1's unique features focus on ergonomics for increased comfort, safety and productivity. The handle provides balanced weight distribution to decrease strain and allows safe two-handed operation. G1's universal five-position pulling-head quickly attaches to 1/2-inch to 4-inch conduit and offers five different positions giving the professional the option to pick the best angle for each pull.
A pivoting monopod attachment provides flexibility and alleviates prolonged lifting, reducing operator fatigue. The 17-inch, adjustable-length boom reaches up to 10 feet using 1-inch rigid conduit as an extension to reduce the need to pull on a ladder.
Professionals interested in Greenlee's G1 Versi-Tugger can learn more at Greenlee.com/G1-versi-tugger. To find a local dealer, visit Greenlee.com/where-to-buy. For more information on Emerson, visit www.Emerson.com.