Concord Industrial Products Carbide-tipped Circular Saw Blades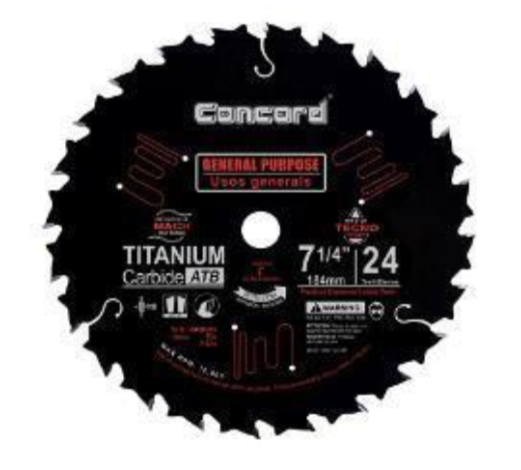 Concord Industrial Products is proud to announce the official launch of a new division within the company, The Coated Blade Division is offering a full line of carbide-tipped circular saw blades. The core of this launch is our New Technology in both engineered blade design and PTFE Coating Technologies.
The product line contains 72 unique blades and 11 diverse cutting categories making us one of the largest suppliers in the coated blade category. This program covers every material cutting application in the industry, from hardwoods and laminates to stainless steel.
Our blades can be used on virtually any power tool or table saw, on the jobsite or fabrication facility. This gives us the ability to supply multiple market channels for both distribution and end users. Concord's "TECNO COAT" technology is the latest generation in circular saw blades and the benefits these products offer the user markets will save them time and money. Our distributors will have a solid profit center with endless possibilities for growth.
Each blade category has the right variety of grinds and teeth configurations for every application. All our blades are laser cut and feature precision engineered heat expansion slots, anti-friction vents and our new technology "TECNO" non-stick coating.
The quality of raw materials used in our manufacturing process guarantees the strength and durability of our blades. Oversized micro-grain tungsten carbide teeth feature extended blade life and multiple sharpening opportunities.
Concord Industrial Products 30 plus years of manufacturing experience and as an OEM source supplier for multiple brand name companies proves our quality and technology is tried and tested in the Industrial Markets. Visit us at www.concordblade.com or give us a call at 888.591.8711 to learn more about our products and programs.