METABO NP 18 LTX BL 5.0 Cordless Blind Rivet Gun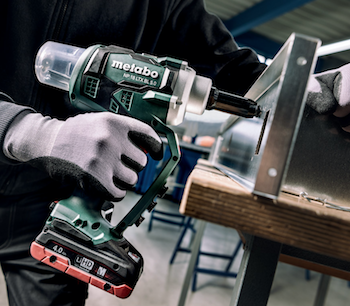 The new METABO NP 18 LTX BL 5.0 Cordless Blind Rivet Gun provides extremely fast riveting, comparable to compressed air devices. It features holding nozzles for one-hand operation and a transparent collecting container for simple emptying of the remaining rivet mandrels. Users can quickly change nozzles for different rivet diameters via the integrated tool.
Cordless blind rivet gun for extremely fast riveting, comparable to pneumatic machines
100% compatible with all Metabo 18 volt battery packs
Long service life thank to brushless motor and robust precision gearing
With mouthpiece retainers for one-hand operation: inserted rivet stays in any position
Transparent collection container for easily emptying rivet bodies
Fast mouthpiece exchange for different rivet diameters with integrated tools
Safe working thanks to sturdy hand guard
LED light for optimal lighting while riveting, can be switched off for reflective surfaces
Ergonomic design for comfortable work even in corners
Sturdy eye for force-saving work with balancer/spring load suspension device
With handy belt hook, can be fixed either on the right or left side
Battery packs with capacity display for checking the charge status
Ultra-M technology for highest performance, gentle efficient charging, optimum energy utilization and long service life.