Count On Tools Rainbow Series Tools from PB Tools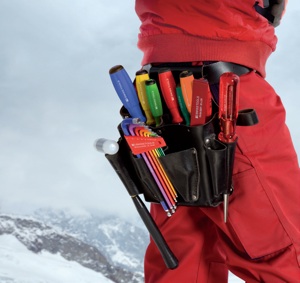 Count On Tools Inc., announces that PB Swiss Tools now offers tools that are color-coded according to size and function in its Rainbow assortment. Since color is retained more easily in memory, color-coding helps visual perception. If a tool is distinctively differentiated from others, it can be located faster in the toolbox, at the workplace, in the field or on the construction site, and recognized easily, allocated correctly and used safely.
Whether screwdrivers, hex key L-wrenches or striking tools, with the Rainbow assortment, the work is done more easily. Tools in bright colors have a signaling effect: They stand out and quickly allow users to recognize the tool type and the desired size. Whether it is color coding by size or tool type, both systems guarantee that the desired tool can be reached as quickly as possible.
Rainbow – Tools with signaling character:
The Rainbow hex key L-wrenches have been popular since 2010. As a set in the practical KeyDisc holder, it was honored with the prestigious red dot design award as well as the iF product design award. The extensive expansion of the Rainbow assortment will thrill any craftsperson and simplify even demanding work into an everyday routine.
Familiar high Swiss quality:
Additional useful improvements and advancements of the individual tools supplement the existing assortment for 2012. PB Swiss Tools develops and manufactures each item completely in Switzerland. The world-famous hand tools from PB Swiss Tools pass every endurance test: they can be precisely adjusted, are long-serving and rugged. Due to their innovative design, they fit in the hand perfectly and guarantee tireless working. The perfect fitting accuracy of every single tool turns work safety and efficiency into a reality.
With more than 130 years of experience, PB Swiss Tools is a global leader of hand tools manufactured for use in the industrial marketplace, even for the most hazardous jobs. All PB Swiss Tools are 100 percent Swiss-made and come with an unlimited lifetime guarantee. Work with the best.