Simpson SUBH Wall-Stud Bridging Connector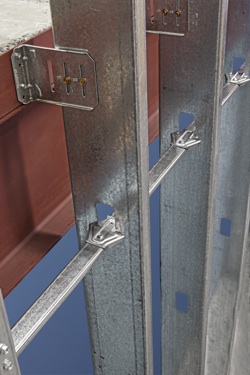 Simpson Strong-Tie introduces the new SUBH wall-stud bridging connector for cold-formed steel construction, requiring fewer screws for a lower installed cost. The SUBH is the only bridging connector that has been extensively lab tested as a system, ensuring that tabulated design values reflect stud web size and thickness.
The SUBH bridging connector requires only one screw for most installations, reducing costs over conventional clip-angle connections that require four screws for u-channel bridging. It's designed with contoured flanges that fit snug over industry standard 1.5" wide u-channel and has an integrated slot that grabs the stud web. These unique features enable superior rotational and axial pull-through resistance to meet the requirements of AISI S100 Sections D.3.2.1 and D3.3.
In addition, the SUBH connector is self stabilizing and does not require an extra hand or C-clamps to hold the connector while a screw is being driven.
The SUBH bridging connector can be used with stud thicknesses ranging from 33 mils (20 gauge) to 97 mils (12 gauge). The MSUBH also is available and is designed for use in stud thicknesses from 54 mils (16 gauge) to 97 mils (12 gauge). Both connectors can be used in stud sizes ranging from 3 5/8" to 8".
For more information, visit www.strongtie.com/subh.