DeckWise Hardwood Decking Tiles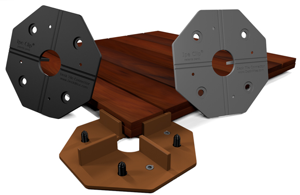 DeckWise.com, an internationally recognized manufacturer of hidden deck fasteners and accessories, has added high-quality hardwood deck tiles to their inventory lineup.
"We have established ourselves as a leading supplier of high-quality stainless steel screws to South American deck tile manufacturers. So it seemed like a natural fit to offer our US customer base deck tiles built with our screws and, at the same time, help promote our South American clientele. Ultimately, our success distributing screws and Deck Tile Connectors to our dealers made adding the tiles as a pre-assembled accessory a no-brainer," said Jeffrey Horn, COO of DeckWise, a division of The Ipe Clip Fastener Company LLC.
Three of the world's most luxurious and in-demand hardwoods form the catalog of the new deck tiles, which conveniently come in multiple variations:
Ipe: Available in two sizes: 24 x 24 inches with a thickness of 1.69 inches, and 20 x 20 inches with a thickness of 1.18 inches. The latter's surface comes in two styles: smooth and anti-slip; the former comes in smooth.
Cumaru: 20 x 20 inches with a thickness of 1.18 inches; smooth surface
Tigerwood: 20 x 20 inches with a thickness of 1.18 inches; smooth surface
Deck tiles, also known as instant decking, portable decking or pre-installed decking, have dramatically grown in
popularity in recent years, hence the decision by DeckWise to add them to their "starting lineup" of product choices.
"Besides giving past, present and future customers more premium-quality product choices from DeckWise, we've also given them another benefit that many can reap in this current rental-dominated market: portability," said Jeffrey. "Whereas traditional decking is meant to be permanent and left behind in the event a tenant relocates, decking tiles allow anybody - tenant or homeowner - to place them on their patio and then easily take the tiles with them when they move."
Decking tiles are ideal for people who wish to cover up ugly, aged concrete patios and other structural blemishes, as well as liven up outdoor surroundings with a luxurious look that can be seamlessly moved and arranged with ease.
DeckWise designs, patents and manufactures high-quality deck building supplies in their 70,000 sq. ft.
state-of-the-art factory in Bradenton, Florida. Founded in 2000, The Ipe Clip Fastener Company LLC, aka DeckWise, promptly became a leading innovator in the deck building industry by providing innovative premium-quality products. Their distinctive roster of premium products are produced for use with decking materials like hardwoods, composites and PVC, and headlined by their unique Extreme hidden deck fasteners. Other creations include the Hardwood Wrench, the Drill & Drive, and Colormatch screws, gap spacers, hardwood plug kits, Deck oil finish, Deck Cleaners and Sealers.