Hand Tools: Count On Tools expands PB Swiss Tools Rainbow hex key series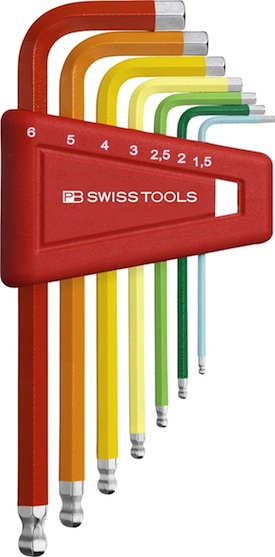 Count On Tools Inc. introduces PB Swiss Tools' smaller Hex Key (allen keys) sets that are color-coded according to size and function in its Rainbow assortment.
The tools are distinctively differentiated from others; thus they can be located faster in the toolbox, at the workplace or on the construction site.
The color-coded PB Swiss Tools' Rainbow Series set them apart from the rest by giving an indication of size to every tool. PB Swiss Tools uses the latest high-tech processes to manufacture colored handles and blades to make work better, easier and more efficient.
The key sets feature precisely chamfered corners for easy insertion into screws. Additionally, the Rainbow series provides absolute precision and the highest regularity with tolerances smaller than a human hair.
Rainbow hex key sets are labeled with the serial number for additional security and to enable tracing the production back to the raw material. The key sets are chrome-plated with a powder-coated color finish for protection against corrosion.
PB hex keys feature a perfect-shaped ball-point end, allowing any user to turn the screws with an angle of up to 30°.
PB Swiss is the only manufacturer to offer such a large angle for ball-point hex keys, making them the most versatile hex keys on the market.
All PB Swiss Tools are 100 percent Swiss-made and come with an unlimited lifetime guarantee.