Hand Tools: Snap-on Industrial Mobile 3/4 Inch Drive Tool Set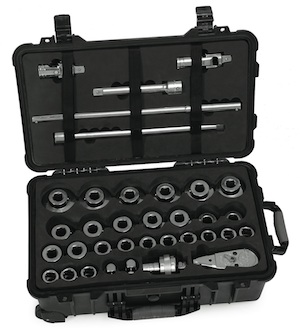 Any technician knows that carrying sockets and keeping track of them on the job site can be a challenge. But fortunately those days are over, thanks to the new Mobile 3/4" Drive Tool Set from Snap-on Industrial.
The new Mobile 3/4" Drive Tool Set (part number 434HDC) includes a mix of 36 sockets, extensions, along with a sliding head, ratchet head, universal joint, breaker bar and ratchet adaptor – all precision-crafted from a special alloy steel for strength and durability. The nickel chrome finish helps protect against corrosion and makes it easy to wipe clean.
The case features a durable foam insert for tool security and accountability. Crafted of Ethylene Vinyl Acetate and blended copolymers, the foam insert is strong and resists oils and hand cleaner chemicals. The tool chest comes with easy-rolling wheels and retractable handle, making transportation of sockets convenient and portable.
The Mobile 3/4" Drive Tool Set is ideal for aviation, military, oil and natural gas and other heavy industry applications. The sockets and tools meet ASME/ANSI B107.1 Standards.
For more information about the new Mobile 3/4" Drive Tool Set, call 877.740.1900, or visit www.snapon.com/industrial