Crescent JOBOX Mesh Cabinets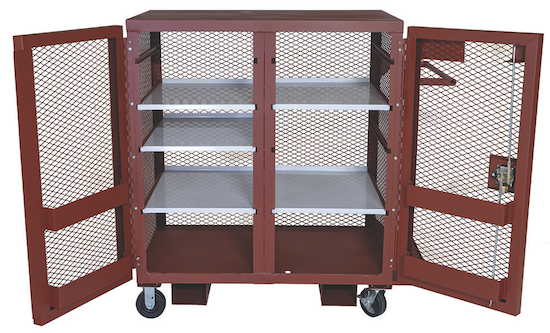 Crescent JOBOX, a premier hand tool brand of Apex Tool Group, introduces its new mesh cabinets designed to be more flexible without skimping on security or storage capacity. The new line of cabinets is available in three sizes, and emphasizes security, versatility, visibility and portability.
"The benefits of the new Crescent JOBOX Mesh Cabinet design are that we've created increased storage capacity, greater flexibility and high visibility," said product manager Sam Samsel. "They're built with a combination of convenience, mobility and security that is hard to find."
Built with heavy 13-gauge steel mesh, the Crescent JOBOX mesh cabinets feature bright white sliding shelves, making them highly visible and accessible. The 65-inch (400990) and 49-inch (401990) models feature eight shelf channels and the 33-inch model (402990) features four, designed to be customizable and adjust easily for whatever storage is needed up to 200 pounds each.
Built-in storage bins on each door provide quick access to smaller items used more frequently. On the outside, an additional shelf works with the push handle to create a space for step ladders and other longer items.
The commercial three-point locking system secures the top, bottom and middle of the doors, which are constructed with continuous hinges for durability. At 33 inches wide, the new mesh cabinets roll easily through standard industrial doorways on heavy duty 6-inch casters—two fixed and two swivel—with locks.
For more information, go to www.jobox.com.